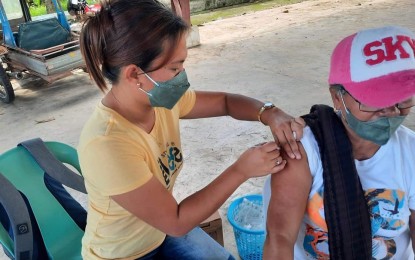 BACOLOD CITY – The province of Negros Occidental still has a long way to go to reach its target coronavirus disease 2019 (Covid-19) vaccination coverage rate among the senior citizens, or the A2 category, despite an intensified campaign this month.
Of the 15,000 target vaccinees in the above 60 age group, only 718 individuals so far have availed of the vaccines since the eight-day Provincial Vaccination Days started earlier this month.
Provincial administrator Rayfrando Diaz II said on Wednesday that despite the offer of incentives to barangay health workers to convince the unvaccinated senior citizens to avail of the vaccines, the numbers remain low.
"We will just keep on trying, we won't lose if we continue doing it. However, it will just take time to downgrade our alert level in the entire Negros Occidental," he told reporters.
Diaz said since getting vaccinated against Covid-19 is a voluntary act, they cannot force people to be inoculated.
"Our principle is to have the vaccines available where it is needed. We cannot impose, we cannot compel the vaccination of 70 percent of our population and all those in the A2. We just have to convince people and make them understand that it is better if they are vaccinated," he added.
The Provincial Health Office has scheduled a Covid-19 vaccination blitz on June 2-3, June 9-10, June 16-17, and June 21-22 to boost the coverage rate among the Negrenses, particularly the senior citizens.
As of June 20, data from the Department of Health-Western Visayas (DOH-6) showed that Negros Occidental has fully vaccinated 136,165 individuals or 50.51 percent of the target 269,602 vaccinees.
Some 138,614 elderly persons, or 51.41 percent, have also availed of the first dose, the second-lowest coverage rate in Western Visayas next only to Antique. (PNA)