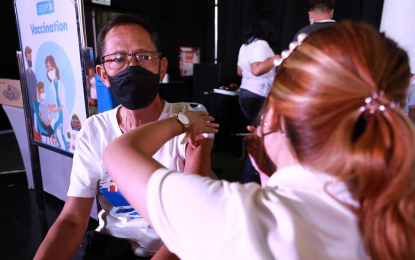 MANILA – The Quezon City government has administered a total of 6,021,034 coronavirus disease 2019 (Covid-19) vaccine doses as of Wednesday.
The city government said the number represents first and second doses, as well as Covid-19 booster shots.
The number of fully vaccinated individuals in the city has reached 2,489,113, including both adults and minors, and those vaccinated with the single-dose Janssen jabs.
On its Facebook post, the city government said the number of adults who have received at least one dose of the Covid-19 vaccine is now 2,265,997, and 375,041 minors aged 5 to 17 years old, including those with comorbidities.
Meanwhile, 1,019,968 individuals have received their booster shots.
The city government assured its residents that it would continue administering the free Covid-19 vaccines and booster shots as long as the national government supplies them with the jabs.
It also encouraged individuals that remain unvaccinated up to this time, as well as those who are already eligible to receive their second booster shots, to register through
https://qceservices.quezoncity.gov.ph/qcvaxeasy
and avail of the free protection against the dreaded disease.
Residents may also visit the city government's Facebook page or the website
https://qcprotektodo.ph
for details on its vaccination program.
On Tuesday, Quezon City recorded a 20-percent increase in active Covid-19 cases in two days.
From 365 active infections on Sunday, its tally increased to 439 on Tuesday, or 0.17 percent of the overall confirmed cases of 263,118.
In a statement, the City Epidemiology and Surveillance Unit (CESU) reminded residents to continue observing the minimum health protocols like avoiding crowded places, maintaining one to two-meter physical distancing, frequent use of alcohol or washing of hands, and wearing face masks.
As the city remains under "yellow" status amid the rising number of Covid-19 cases, QCESU chief Dr. Rolando Cruz earlier said there was a possibility that Covid-19 cases would spike further within the next two weeks. (PNA)