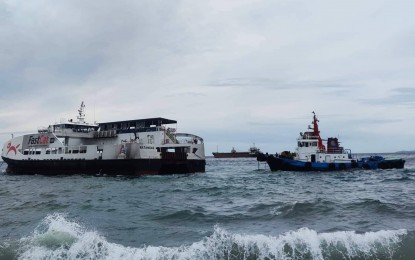 DUMAGUETE CITY – A fast ferry ran aground Wednesday afternoon after being hit by a squall and huge waves that dislodged it from its mooring area off Rizal Boulevard here.
Lt. Junior Grade Mark Tolentino, commander of the Philippine Coast Guard (PCG) station in Negros Oriental, told the Philippine News Agency that at around 2:50 p.m., the M/V FastCat M6 was carried to shallow waters fronting Pantawan 2, a reclaimed area along the boulevard.
"Fortunately, the vessel hit close to the bottom of the sea just meters away from the seawall, avoiding any damage," Tolentino said in mixed English and Cebuano.
He also said all 15 crew members of the vessel skippered by Capt. Henry Ricafort are safe.
Tolentino said they immediately facilitated the towing of the high-speed ferry by the tugboat MTug Ankiesha, to prevent it from slamming against the breakwater.
The ferry boat was brought offshore, where it dropped anchor, after which Coast Guard personnel from the Marine Environmental Protection unit boarded it to check on the extent of damage and possible oil spill.
The vessel was anchored off the boulevard for almost two weeks while awaiting the renewal of some documents, Tolentino said.
It was scheduled for dry-docking but the Coast Guard cannot clear its departure unless all necessary papers are in order, he added.
Meanwhile, the captain of the fast ferry has been advised to file a "marine protest" or incident report with the Maritime Industry Authority here. (PNA)