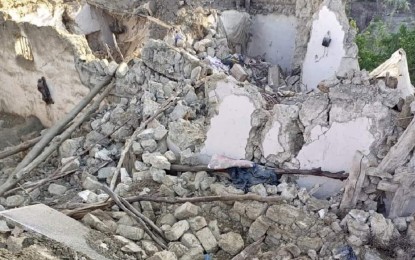 ISLAMABAD – A powerful earthquake killed at least 1,000 people and injured 610 in eastern Afghanistan, officials said on Wednesday.
Maulvi Sharafuddin Muslim, deputy minister of state for disaster management, said 1,000 people have so far been killed and over 610 wounded in the earthquake, the state-run Bakhtar News Agency quoted him as saying during a press conference in the capital Kabul.
"At least 218 people have been killed and more than 300 injured in an earthquake in #Paktika's Giani district alone. So far, the number of martyrs in #Paktika has reached 381," Abdul Wahid Rayan, a Taliban official and director-general of Bakhtar, had tweeted earlier.
The tremors shook the eastern border provinces of Khost and Paktika on Tuesday night, causing huge destruction in these areas.
Afghan officials said the death toll could rise as dozens of people are in critical condition.
"I have tragic reports from my native Paktika province, where hundreds of people are killed and wounded in the devastating earthquakes. The homes are destroyed, and people are under the rubbles," Khalid Zadran, a police spokesman in Kabul, said on Twitter.
In a statement, the Taliban government said the country's acting prime minister directed the dispatching of relief items, including tents and blankets, to the affected areas.
"Prime Minister Mullah Hasan Akhund chaired an emergency cabinet meeting and approved one billion Afghanis (over USD11 million) as financial assistance for affected families," said a statement issued by his office.
The Afghan Defense Ministry also transferred critically wounded victims to Kabul and other provincial hospitals via helicopter, it added.
Taliban officials have also requested immediate assistance for quake-hit areas.
Videos and photos circulating on social media show houses razed to the ground in last night's devastating earthquake.
The Turkish Foreign Ministry conveyed "deep sorrow" to Afghanistan on Wednesday over the earthquake.
"We have received the news with deep sorrow that a powerful earthquake of 6.1 magnitude which occurred in the eastern part of Afghanistan, claimed many lives, left several others injured, and caused heavy damage to the property, particularly in Paktika province," the ministry said in a statement.
The Turkish Red Crescent, which has been operating in Afghanistan, has dispatched humanitarian aid for the quake victims in the region, the statement added.
"Türkiye, as always, stands ready to provide every kind of assistance to the brotherly Afghan people who have been affected by the earthquake," it said.
Separately, Türkiye's Vice President Fuat Oktay also offered his condolences for the deadly earthquake.
"We wish God's mercy on those who lost their lives in the earthquake in Afghanistan, a speedy recovery to the injured, and share the pain of the brotherly people of Afghanistan," Oktay said on Twitter. (Anadolu)