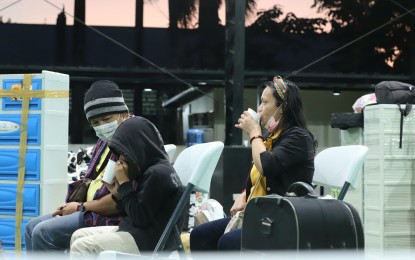 MANILA – The government pushes for reintegration interventions for beneficiaries of the "Balik Probinsya, Bagong Pag-Asa" (BP2) program once sent back to their respective home provinces.
The BP2 program has been helping hundreds of family-beneficiaries through the whole-of-nation approaches by the program's key agency implementers such as the National Housing Authority (NHA), Department of Transportation, Department of Social Welfare and Development (DSWD), Department of Health, Department of Agriculture (DA), Department of Trade and Industry, and Technical Education and Skills Development Authority.
It just got better with the various groups from the private sector recently expressing willingness to collaborate with the government to push the BP2 program.
Executive Order No. 114 signed by President Rodrigo Duterte in May 2022 urged for the institutionalization of the program to provide "equal opportunities and adequate social services" for the beneficiaries in their home provinces.
Senator Christopher Lawrence "Bong" Go, a proponent of the program, called on the incoming administration of President-elect Ferdinand "Bongbong" Marcos Jr. to continue the government's commitment to foster regional development through the program.
"It will provide more Filipinos with hope for a better future following the Covid-19 pandemic," Go added.
Go, in a statement Thursday, said the initiatives pushed under the BP2 program can benefit those who have been adversely impacted by the Covid-19 pandemic.
The program itself offers these individuals a fresh start in the provinces.
Go said the program can contribute to addressing the long-standing congestion problems in Metro Manila while further developing opportunities in the countryside.
He added that the BP2 program also encourages investors to go to the provinces that will open a higher rate of employability for more "probinsyano" seeking a stable life.
Many BP2 beneficiaries are now savoring the reintegration initiative, which is jointly implemented by the receiving national and local government agencies.
The DSWD assists the beneficiaries throughout the case management up to send-off activity and also provides transitory cash assistance to help families during their transition period.
Returning beneficiaries are offered livelihood grants for start-up capital and agribusiness kits while resettling in the provinces for good.
The program also assures food security and agricultural productivity for beneficiaries as part of the reintegration process of the beneficiaries once they return to their community.
Upon their return, the government will also facilitate the fresh start of these individuals by providing them with short-term and long-term assistance.
Those who wish to apply for the program can access it through www.balikprobinsya.nha.gov.ph, or may contact the DSWD via the email address [email protected] or call the hotline (02) 8952-0697 or (02) 8931-8101, local 513.
Applicants may also visit the BP2 Depot along Agham Road corner Quezon Avenue, Diliman, Quezon City. (PNA)