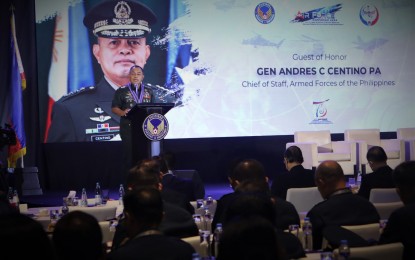 MANILA – Armed Forces of the Philippines (AFP) chief-of-staff Gen. Andres Centino has reaffirmed his support for all efforts aimed at strengthening the Philippine Air Force (PAF).
This came ahead of the force's 75th founding anniversary on July 1.
"As Chief-of-Staff, I reaffirm my support to further strengthen the Philippine Air Force and enjoin all airmen to sustain the strong teamwork, competence, and dedication to duty as we journey all together to become world-class armed forces that are a source of national pride," he said in his speech during the Air Force Symposium 2022 at the Marriott Hotel, Pasay City Wednesday.
The symposium echoes PAF's anniversary theme: "Leading an Innovative, Progressive, Adaptive and Dependable Air Force for Peace, Security, and Development."
"We shall soon fully shift our focus to external defense operations to secure our territory and sovereignty. This necessitates a more capable PAF that can effectively address all present and emerging security threats that may challenge our resolve as a sovereign nation," Centino said.
PAF commander, Lt. Gen. Connor Anthony D. Canlas Sr., said the symposium was an ideal opportunity for PAF to assess its current air power capabilities and formulate plans for its advancement.
"We are focused on continuing to give excellent service to our nation. Our decisions that will emanate from this symposium are aimed at improving the air power of the PAF," he added.
The one-day symposium consisted of a two-part session. In the morning, world leaders in the aviation industry were given the chance to present their companies to military and civilian guests.
Among them were Airbus Defence, Diehl Defence, Korea Aerospace Industries LTD (KAI), Saab Philippines, Lockheed Martin, Jet Aviation Asia Pacific PTE LTD, and Textron Aviation Defense LLC.
Booths were also set up showcasing civil and defense aviation products and services that centered on the development of airpower technology.
The series of lectures and panel discussions during the afternoon session was the highlight of the symposium.
Presentations included the history of PAF and Philippine aviation in general, contemporary and emerging security challenges in the aviation industry both local and in the Asia-Pacific region, the Philippine space program, US Air Force Space Force, and cyber warfare. (PNA)