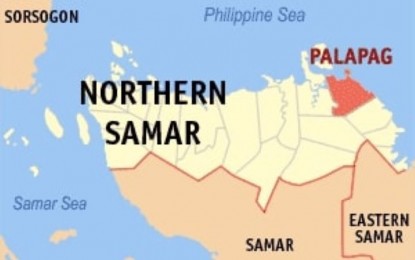 TACLOBAN CITY – At least 26 remote villages in Northern Samar have been cleared from the threats of New People's Army (NPA) this month after a thorough evaluation, the Philippine Army bared on Thursday.
Lt. Col. Joemar Buban, commander of the Army's 20th Infantry Battalion, said the villagers in the NPA-cleared communities have asserted that the presence of soldiers has a great impact on bringing government services closer to the people.
"We are pleased that communities are reaping the benefits of Community Support Program (CSP) and that their supporters have completely abandoned the communist terrorist group," Buban said in a phone interview.
CSP is a flagship program of the Armed Forces of the Philippines used to clear communities of NPA infestation and to bring the government closer to the people through faster delivery of basic services.
These villages are Bangon, Osmeña, Bagacay, Canunghan, Capacujan, Napo, Sangay, Laniwan, Sinalaran, and South Can-Irib in Palapag town; Malidong, Bonifacio, Rizal, Bato, and Luneta in Gamay town; and Siljagon, South Pangudtan, Magtaon, and Jubasan in Mapanas town.
Also included are the villages of Vigo, Yapas, San Antonio, Tinoblan, Bawang, and Atipolo in Laoang town; and Can Maria in Lapinig town.
Col. Efren Morados, deputy brigade commander of the Army's 803rd Infantry Brigade and co-chairman of area clearing evaluation team (ACET); and Lt. Col. Marben Ordonia, Northern Samar police deputy provincial director and ACET co-chairperson, led the area clearing deliberation and evaluation on June 13 to 15.
Among the parameters used in area-clearing validation include the solutions that address the issues exploited by the NPA, denial of access of the rebels to local resources, and establishment and functionality of local task force to end local communist armed conflict.
The military said the communist terrorists have stopped receiving financial support and food supplies from communities with the rollout of development initiatives.
Several supporters also surrendered due to the weakening support to the rebels.
"The village officials were given a chance to express their concerns and sentiments during the presentation of the CSP operators. They have confirmed the findings of the CSP teams in their respective villages," Buban added.
Land distribution and poor road networks are the two top issues raised by these conflict-stricken communities in these Northern Samar towns during a dialogue with CSP teams.
The deployment of CSP teams to gather and bring these issues to government agencies is part of the whole-of-nation approach to end communist armed conflict in the country.
"These issues, if not addressed by the government, will remain as the primary exploitable issue to be used by the Communist Party of the Philippines (CPP)-NPA in their recovery efforts after clearing the villages," the army official said.
The CPP-NPA is listed as a terrorist organization by the United States, the European Union, the United Kingdom, Australia, Canada, New Zealand, and the Philippines.
The Anti-Terrorism Council also formally designated the National Democratic Front as a terrorist organization on June 23, 2021, citing it as "an integral and inseparable part" of the CPP-NPA that was created in April 1973. (PNA)