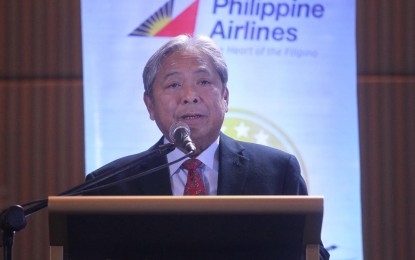 MANILA – President-elect Ferdinand 'Bongbong' Marcos, Jr. on Thursday named veteran airline executive Jaime "Jimmy" Bautista as Secretary-designate of the Department of Transportation (DOTr) along with other key nominees in his administration's transportation cluster.
Bautista, a Certified Public Accountant, worked at the country's flagship Philippine Airlines (PAL) for 25 years and was its President for a combined 13 years before retiring for the second time in 2019.
Bautista rose through the ranks of PAL, eventually becoming Vice President for Finance from 1993 to 1994, Chief Finance Officer from 1994 to 1999, Executive Vice President from 1999 to 2004, and President from 2004 to 2012, and from 2014 until 2019.
Marcos also named former Light Rail Transit Authority (LRTA) Deputy Administrator Cesar Chavez as Undersecretary-designate for Rails of the DOTr.
Chavez, who President Rodrigo Duterte appointed to the same post in 2017, was instrumental in securing the National Economic Development Authority Board's approval for the Metro Manila Subway, Philippine National Railway (PNR) Manila to Calamba, PNR Manila to Bicol, and the Tagum-Davao-Digos Mindanao rail projects.
Chavez is also credited for overseeing the interconnection of the LRT Line 1 in Monumento to MRT 3 in North Edsa, ensuring seamless travel for the passengers.
Before working in the transport sector, Chavez was Assistant General Manager for Planning of the Metro Manila Development Authority, Chairperson of the National Youth Commission (NYC), and youth sector Representative in the 9th Congress.
Meanwhile, veteran journalist and lawyer Atty. Cheloy E. Garafil, was nominated by Marcos as Chairperson-designate of the Land Transportation Franchising and Regulatory Board (LTFRB).
Garafil, currently a Service Director at the Committee on Rules of the House of Representatives, was a Prosecutor for the Department of Justice (DOJ) and State Solicitor for the Office of the Solicitor General (OSG).
She worked as a media practitioner for over a decade in various media organizations such as the Philippine Daily Globe, Central News Agency, Associated Press, and Malaya.
Garafil also holds a Master's degree in National Security Administration from the National Defense College and is a Philippine Air Force reservist with the rank of Lieutenant-Colonel.
Rounding up President-elect Marcos' nominees for his transport cluster is Christopher "Chet" Pastrana, who will be General Manager-designate of the Philippine Ports Authority (PPA).
Pastrana, a successful businessman in the transportation field, brings with him decades of experience in various aspects of aviation, logistics, and public maritime transport.
A graduate of Bachelor of Science in Agricultural Business from the University of the Philippines, Los Baños, in 1987, Pastrana is currently the President and CEO of CAPP Industries, a supply and logistics conglomerate.
Pastrana is also the Chairman of Archipelago Philippines Ferries Corp. (APFC), which operates FastCat ferries, the sector's most recognizable and well-respected transport provider.
Bello as MECO chair
Marcos also nominated two outgoing officials from the Duterte administration, naming outgoing Labor Secretary Silvestre "Bebot" Bello III as Chairman and Resident Representative-designate of the Manila Economic and Cultural Office (MECO).
Appointed as DOLE Secretary by Duterte in 2016, Bello has spent decades in public service and has held various positions such as Acting Secretary of Justice and later on Solicitor General in 1998 during the term of then-president Fidel Ramos.
Bello was appointed Cabinet Secretary by former president Gloria Macapagal-Arroyo from 2004 to 2010 and was a party-list Representative from 2013 to 2016.
Marcos also renominated former Cabinet Secretary Karlo Nograles as Civil Service Commission (CSC) Chairman-designate.
Nograles was among the Duterte ad-interim appointees that were bypassed for lack of quorum by the Commission on Appointments (CA) this June.
Nograles, a lawyer, was Davao City's 1st district Representative for eight years before Duterte appointed him to several posts in the Executive branch.
Nograles was once Cabinet Secretary, Inter-Agency Task Force for the Management of Infectious Diseases spokesperson, Acting Presidential spokesperson, and Chairman of the Inter-Agency Task Force on Zero Hunger. (PR)