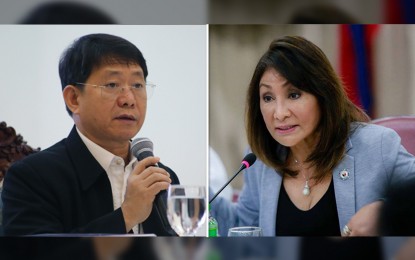 MANILA – The national government and the Cebu provincial government have agreed to end the face-off on the enforcement of the mask mandate, Interior Secretary Eduardo Año said on Thursday.
Speaking to reporters on the sidelines of a gun exhibit in Mandaluyong City, Año said he talked with Cebu Governor Gwen Garcia and they both agreed to a compromise regarding the province's ordinance that made masks optional in outdoor and well-ventilated areas.
"They are currently crafting an IRR (implementing rules and regulations) there to rationalize the wearing of a face mask and we will wait for the result of the IRR before we give further guidance. They will also craft how to enforce the ordinance rationalizing the wearing of face masks. So they will wait for that," he added.
Año earlier said the ordinance passed by the Cebu provincial board cannot supersede President Rodrigo Duterte's Executive Order (EO) 151 which mandates the use of face masks all over the country except in allowable circumstances.
He emphasized that the country is still under a state of public health emergency and a state of calamity until September 12, 2022.
Año said the Philippine National Police will strictly enforce the mandatory face mask rule imposed by the President in Cebu and that all police officers who refuse to follow orders from higher authorities will be relieved of duty.
Garcia argued earlier that the resolutions of the Inter-Agency Task Force for the Management of Emerging Infectious Diseases are merely "recommendatory in nature". (PNA)