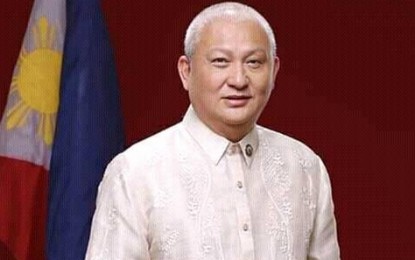 MANILA – A lawmaker on Thursday said Congress would not fund the propounded oil importation agreement with Russia because the Philippine government is not in the business of importing and refining crude oil into finished petroleum products.
Surigao del Sur Rep. Johnny Pimentel, chair of the House strategic intelligence committee, ruled out the government-to-government purchase of cheap crude oil from Russia because there is no mechanism for the Philippine government to directly import crude oil, whether it is from Russia or from other foreign sources.
"Assuming we buy the oil, what will we do with it? We certainly can't refine it because the government does not own a refinery, and storage alone will cost us money," Pimentel said in a statement.
He said if the government wants to pursue the oil supply deal, it should include Petron Corporation in the discussion considering the crude oil's compatibility in the company's refinery.
"If the Russians want to sell their oil, they should make the offer to Petron Corp., not to the Philippine government," he said. "Despite the Philippine government's position against the invasion of Ukraine, Filipino companies have not been banned from engaging in business with Russia or with Russian entities."
The Philippines was among the 141 countries that voted in favor of the United Nations resolution condemning the Russian invasion of Ukraine.
Russian Ambassador to the Philippines Marat Pavlov previously met with President-elect Ferdinand Marcos Jr. and offered Moscow's help in addressing Manila's oil requirements.
Russia has been under pressure to find alternative markets for its huge oil stockpile amid international sanctions over its invasion of Ukraine.
Camarines Sur Rep. Luis Raymund Villafuerte, meanwhile, proposed to the incoming administration to consider putting up a national strategic petroleum reserve (SPR) to stabilize the retail cost of petroleum products and shield consumers and motorists from the debilitating effects of sky-high oil prices.
"I hope the BBM administration will take a long look at the SPR plan, which has unfortunately been stuck in the planning stage at the DOE for over two years now," Villafuerte said. "Our DOE officials have for years been talking about a national SPR, but they have yet to walk the talk on this planned reserve for petroleum products."
He said the only assurance came from Energy Secretary Alfonso Cusi, who said the Philippine National Oil Co. has been tapped to do a feasibility study on it.
Villafuerte said this SPR plan should be put in motion in preparation for future conflicts, supply hitches or any other geopolitical developments or catastrophes that could drive fuel prices to later go up north anew beyond the reach of ordinary Filipinos.
DOE Undersecretary Gerardo Erguiza Jr. said the agency will ask the 19th Congress to prioritize the review of the oil deregulation law in a bid to ease petroleum prices. (PNA)