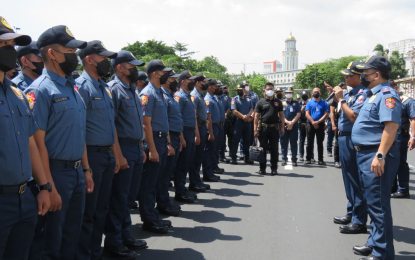 MANILA – The Manila Police District (MPD) has advised protesters to cancel their activities scheduled on June 30, the inauguration day of President-elect Ferdinand "Bongbong" Marcos Jr. at the National Museum in Manila.
For those who will insist on proceeding with their activities, MPD spokesperson Maj. Philipp Ines said they will be allowed to do so, but only in the city's freedom parks.
In an interview on Thursday, Ines said they will not allow protesters anywhere near the inauguration venue.
"Those who will hold a rally or protest, they are not allowed to go there, simply because this is the inauguration of our president. He has not even started yet and they will immediately hold their rally," he said in Filipino.
"Secondly, if we cannot really prevent them, we have freedom parks in Manila, we have four --Plaza Miranda, Plaza Dilao, Plaza Moriones, and also Liwasang Bonifacio, but they cannot go anywhere near the venue," he added.
Ines reminded protesters that Manila has a "no permit, no rally" ordinance and the Batas Pambansa 880, or the Public Assembly Act of 1985, which states that demonstrators may only gather without permits at government-designated freedom parks.
Ines said in case protesters begin to become violent and start destroying properties, the police will act accordingly.
"Our guideline here is, if they commit blatant violation of the law, we can do but enforce the law strictly. For example, they obstruct the flow of traffic, they damage government or private equipment, we will arrest them, of course that's another matter," he said.
The MPD is set to deploy over 4,000 police officers for the inauguration on June 30, aside from those coming from the national and regional headquarters and other agencies, such as the Philippine Coast Guard and the Metropolitan Manila Development Authority.
Bureau of Permits director Levi Facundo said two groups have applied for a permit to rally on two separate dates --one on June 29 in Mendiola while the other is on June 30 at the Manila Cathedral.
However, as of this posting, the city government has yet to issue any permit to rally to any group. (PNA)