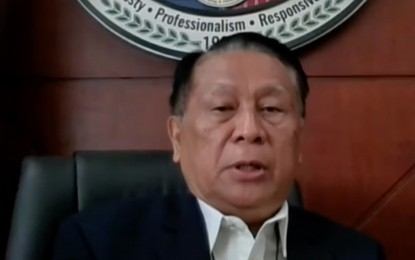 MANILA – Jose Maria Sison, the self-exiled founder of the Communist Party of the Philippines, is the one who "proudly red-tagged" front organizations of the CPP-New People's Army-National Democratic Front (CPP-NPA-NDF), incoming National Intelligence Coordinating Agency (NICA) Director-General Ricardo de Leon said Thursday.
De Leon debunked the claim of some groups about the supposed "red-tagging" activities of the National Task Force to End Local Communist Armed Conflict (NTF-ELCAC).
"First, let me clarify that...the government forces, we do not do red-tagging. Binibigyan natin ng emphasis. Sino ba 'yung nagsabing mang-red tag, 'di ba si Joma Sison (We are giving emphasis on that. Isn't it Joma Sison who red-tagged?)," De Leon said in an interview over ANC, referring to an old video of the founding chair naming the groups affiliated with the CPP-NPA-NDF.
He denied claims that the government, particularly NTF-ELCAC officials, were "intentionally" linking persons and groups to the CPP-NPA-NDF.
"In the tapes that we have been observing, siya (Joma) ang nagdideklara na 'iyan ang front natin ganyan (he is the one declaring that it's their front organizations)…We can start on that premise and we can show videos on how Joma Sison was really proudly tagging these organizations," he said.
During an international conference in Belgium in 1987, Sison, who is in self-exile in the Netherlands since the 1980s, identified the Kilusang Mayo Uno, Kilusang Magbubukid ng Pilipinas, Gabriela, Alliance of Concerned Teachers, League of Filipino Students, and KADENA as part of the CPP-NPA's forces in advancing the Philippine revolution.
Sison's videos naming front groups are being played in academic institutions as part of the government's efforts to make the youth aware of the communist's recruitment process through the front and underground organizations of the CPP-NPA-NDF.
"Our idea here is how do you protect children from being recruited for this cause and what would be the impact to their families. That's what we've been telling because we don't want to be accused of red-tagging them," he said.
De Leon said there is always a basis when organizations have been identified as connected to the CPP-NPA-NDF.
Meanwhile, various NTF-ELCAC officials have been insisting that "no one is red-tagging anyone" unless the former NPA members would confirm their links to the communist groups.
Earlier, NTF-ELCAC spokesperson for sectoral concerns and Presidential Communications Undersecretary Lorraine Badoy said "there's no such thing as red-tagging" since this is a ploy used by CPP fronts to confuse the public and protect their ties with the communists.
The CPP-NPA is listed as a terrorist organization by the United States, the European Union, the United Kingdom, Australia, Canada, New Zealand, and the Philippines.
The Anti-Terrorism Council also formally designated the NDF as a terrorist organization on June 23, 2021, citing it as "an integral and inseparable part" of the CPP-NPA that was created in April 1973. (PNA)