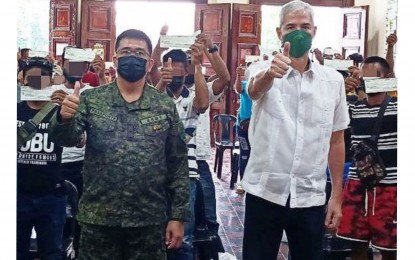 BACOLOD CITY – Some nine former Communist Party of the Philippines-New People's Army (CPP-NPA) rebels in Negros Occidental are starting to rebuild their lives through the financial assistance extended to them by the provincial government.
The beneficiaries, four of whom were full-time combatants and five legal front members, received PHP30,000 each from Governor Eugenio Jose Lacson, in the presence of Brig. Gen. Inocencio Pasaporte, commander of the Philippine Army's 303rd Infantry Brigade, in rites held at the Provincial Capitol here on Wednesday afternoon.
1Lt. Dansan Camua, civil-military operations officer of the 79th Infantry Battalion (79IB), said on Thursday the former rebels, who are from Escalante City and Toboso, surrendered the previous year and also this year.
"They will use the cash assistance to improve their homes and to start a small business to help their families," he added.
The 79IB, based in Sagay City, assists former rebels who surrender to the military in northern Negros.
Lacson thanked the ex-NPA cadres for heeding the call of the government to surrender and also commended their decision to finally come home to their loved ones.
Lt. Col. J-jay Javines, commander of the 79IB, acknowledged the assistance of the provincial government and also the commitment of the provincial Enhanced Comprehensive Local Integration Program (E-CLIP) committee in helping the former rebels reintegrate back into the mainstream society.
Under the E-CLIP, a former rebel is also entitled to receive immediate assistance of PHP15,000; livelihood assistance, PHP50,000; firearms remuneration, PHP12,000 to PHP500,000; half-way house assistance; PhilHealth enrollment and medical assistance; education assistance; housing assistance; legal assistance; and healing and reconciliation initiatives.
The CPP-NPA is listed as a terrorist organization by the United States, European Union, the United Kingdom, Australia, Canada, New Zealand, and the Philippines.
The Anti-Terrorism Council also formally designated the National Democratic Front as a terrorist organization on June 23, 2021, citing it as "an integral and separate part" of the CPP-NPA that was created in April 1973. (PNA)