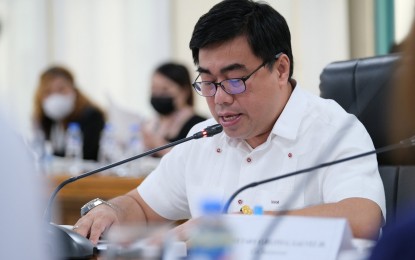 MANILA – Members of the Inter-Cabinet Cluster Mechanism for Normalization (ICCMN) have underscored the legacy achievements and peace agreement under the administration of outgoing President Rodrigo Roa Duterte as Acting Cabinet Secretary Melvin Matibag vowed to help the next government.
"Because of the strong will and clear desire of the government under President Duterte to realize genuine peace and sustainable progress in the Bangsamoro, genuine responses and clear dialogues between stakeholders have become possible. As such, the undertakings of the ICCMN have proactively contributed to building peace in our beloved country," Matibag said during the 8th ICCMN Meeting at the Mabini Hall, Malacañang on Wednesday.
The report presented during the meeting showed that the number the Moro Islamic Liberation Front (MILF) combatants decommissioned processed for general intake under Phase 1 to 3 of the Program for Normalization in the Bangsamoro has increased from the baseline of 145 in 2016 to 19,345 as of today.
As member of the Task Force for Decommissioned Combatants and Communities (TFDCC), the Department of Social Welfare and Development (DSWD) facilitated the basic profiling of the turned over forces to assess their socioeconomic situation and referred them to appropriate government agencies for interventions.
A total amount of PHP2.6 billion has been allocated and utilized to execute projects for the socioeconomic of the decommissioned combatants, their communities, and the six camps.
Through Executive Order 79, the ICCMN Socioeconomic Development Sub-cluster had mobilized and engaged 15 national government agencies mandated to implement identified programs on social protection, capacity development, livelihood, and infrastructure.
Last June 15, ICCMN launched two projects funded by the European Union, and co-funded by Australia, The Asian Foundation, United Nations Development Programme, and MISEREOR. These projects are Access to Legal Identity and Social Services for Decommissioned Combatants or the ALIAS DC, and Programme on Assistance for Camp Transformation through Inclusion, Violence Prevention and Economic Empowerment or PROACTIVE.
Matibag said the ICCMN's milestones, especially, the consistent deliberate efforts towards the development of a strong cooperation between the Bangsamoro and the National Government, have undoubtedly strengthened the foundation to rebuild the country's fragile peace in the past six years.
He is hoping the new administration of President-elect Ferdinand "Bongbong" Marcos Jr. would consider expanding the gains of ICCMN because peace, security, and the protection of every Filipino must be ensured.
"For the remaining days under President Duterte's term we must continue to work and ensure proper turnover so that the remaining activities for the rest of 2022 may be implemented smoothly under the direction of the new leadership. Even beyond June 30, I am sure we will not mind offering our helping hands," Matibag said.
Present during the ICCMN meeting were Office of the Presidential Adviser on Peace, Reconciliation, and Unity (OPAPRU) Secretary Charlie Galvez, Undersecretary Cesar Yano of Department of National Defense, Assistance Secretary Alexander Macario of Department of the Local and Interior Government, Assistant Secretary Vicente Cejoco of Department of Information and Communications Technology, Undersecretary Abdullah Dumama Jr. of Department of Health, OPAPRU Undersecretary David Diciano and Assistant Secretary Wilben Mayor, Mindanao Development Authority Secretary Maria Belen Acosta and Undersecretaries Janet Lopoz and Ameenah Fajardo of Department of Trade and Industry. (PR)