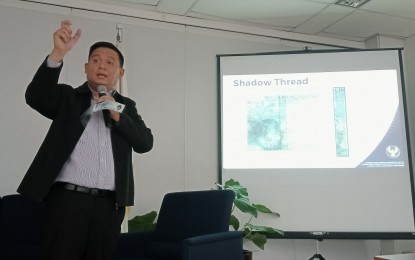 BACOLOD CITY – The Bangko Sentral ng Pilipinas (BSP) has released 2,000 pieces of polymer PHP1,000 banknotes in Negros Occidental, including this capital city, this week as part of the test circulation of the new peso bill.
Jocelyn Ladero, deputy director of the BSP Bacolod Branch, said on Thursday they released the bills to various banks for use in technical briefings among bank personnel.
"We have just released two bundles to banks starting yesterday. It's still very limited. It's for training purposes," Ladero said during the Regional Roadshow on Philippine Currencies and Other BSP-Related Advocacies at the local BSP office here.
She noted the use of polymer substrate is known worldwide to be more sustainable, safe and durable, cost-effective, and difficult to counterfeit.
"The use of polymer banknote is not new. Many countries like Canada, Australia and New Zealand have already used this in their currencies," she added.
In discussing the features of the "first polymer piso", Gregorio Baccay III, acting bank officer V, said of the 500 million pieces of polymer banknotes set for circulation until June 2023, some 10 million pieces have already been released starting April this year.
The limited quantity released in Negros Occidental is part of the initial batch already made available to the public, he said.
"The public is assured it has lots of security features. It's not easy to replicate," Baccay said, adding that the remaining 490 million pieces will be circulated between October this year and June next year.
The PHP1,000 polymer banknote, which features the Philippine Eagle portrait on the obverse side, has security features that include the Sampaguita clear window, serial number, shadow thread, vertical clear window, metallic features, blue iridescent figure, polymer sound straight, tactile dots, embossed prints, flying eagle, and enhanced value panel.
On the reverse side, the design includes the Sampaguita, Tubbataha Reefs natural park, south sea pearl, and T'nalak weave design. (PNA)