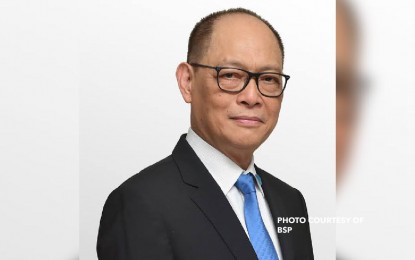 MANILA – Another 25 basis points increase has been announced for the Bangko Sentral ng Pilipinas' (BSP) key rates on Thursday after monetary authorities noted price pressures extending further to 2023.
In a virtual briefing on Thursday, BSP Governor Benjamin Diokno said higher global non-oil commodity prices, domestic fish supply constraints, and transport fare hike petitions are expected to keep the domestic rate of price increases elevated for some time.
These are expected to be countered by projected weaker-than-expected global recovery and the possible reimposition of movement restrictions as coronavirus disease 2019 (Covid-19) infections post increases, he said.
"Given these considerations, the Monetary Board believes that a follow-through increase in the policy rate enables the BSP to withdraw its stimulus measures while safeguarding macroeconomic stability amid rising global commodity prices and strong external headwinds to domestic economic growth," he added.
The rate hike this week follows the same increase in the BSP's key rates last May, which was made to help address the upticks in the inflation rate while leaning on the impact of the continued recovery of the domestic economy.
Thus, effective June 24, 2022, BSP's overnight reverse repurchase (RRP) rate is at 2.5 percent, the overnight deposit rate at 2 percent, and the overnight lending rate at 3 percent.
Diokno said the MB, which he chairs, "reiterates its support for the carefully coordinated efforts of other government agencies as part of a whole-of-government approach in implementing non-monetary interventions to mitigate the impact of persistent supply-side factors on inflation."
"In line with the ongoing normalization of its monetary policy settings, the BSP is prepared to take all necessary policy action to bring inflation toward a target-consistent path over the medium term and deliver on its primary mandate of price stability," he added.
During the same briefing, BSP Deputy Governor Francisco Dakila Jr. said the latest average inflation projection for this year has been revised to 5 percent from 4.6 percent last May.
For 2023, the figure is now at 4.2 percent from 3.9 percent, while for 2024 is within the government's 2-4 percent target range at 3.3 percent.
Dakila attributed these revisions to the May 2022 inflation turn-out, which rose further to 5.4 percent after surpassing the government's target band in the previous month at 4.9 percent; expectations for further acceleration of inflation rate for June 2022; and the approved provisional jeepney fare hikes due to continued upticks in fuel prices.
He said inflation is expected to average at 5.6 percent in the second half of this year due to continued increases in global commodity prices and second-round effects on domestic goods and services.
He said the inflation outlook both for 2022 and 2023 are tilted on the upside before balancing out in 2024.
The BSP now sees crude oil prices for 2022 averaging at USD106.3 per barrel, USD95.30 per barrel for 2023, and USD84.10 per barrel for 2024.
These are higher than the earlier forecast of USD100.04 per barrel for 2022 and USD89.59 per barrel for 2023.
"If Dubai crude oil prices where to fall to USD90 per barrel in 2023 on the average, then, that will be the threshold at which we can expect inflation to decelerate back to within target for that year," he said.
With these factors, Dakila said the MB's policy rate decisions in the coming months will remain to be data-dependent, such as on inflation development and its impact on domestic growth.
"The BSP has already signaled its intention to continue rolling back its pandemic-induced interventions amid the strong rebound in domestic economic activity and labor market conditions consistent with this exit from monetary accommodation," he added. (PNA)