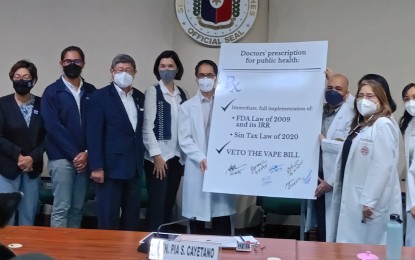 MANILA – Senator Pia Cayetano and health advocates on Thursday called on President Rodrigo Roa Duterte to veto, before stepping down, the Senate Bill (SB) 2239 or the Vape Regulation Bill.
Cayetano said the recent Supreme Court (SC) ruling she hailed, which recognized the continued regulatory authority of the Department of Health (DOH) and the Food and Drugs Administration (FDA) over cigarettes and other tobacco products, is also saying that anything that affects the health should be regulated by FDA.
"This, to me, would clearly include vapes and e-cigarettes," she said in a media briefing at the Senate in Pasay City.
SB 2239 was filed on May 26, 2021 by Senators Manny Pacquiao, Vicente Sotto III, Juan Miguel Zubiri, Francis Tolentino, and Ralph Recto.
It was ratified by both Houses on Jan. 26, 2022 and should be waiting for the signature of Duterte.
Cayetano, said, said she heard the bill has not been yet submitted to Malacañang and is still "sitting at some table" in the House of Representatives.
"Medyo nagtataka ako kasi January pa kasi yan at wala pa sa Malacañang (I am quite surprised because it was [ratified] in January and it's still not in Malacañang). As far as I'm concerned, kapag dumating na ang June 30 at wala pa yan kay Presidente Duterte, tapos na yan (if June 30 comes and it is not yet on the President Duterte's hands, it's done)," she said.
Cayetano is also hoping that incoming President Ferdinand Marcos Jr. would not sign the measure into law.
Framework Convention on Tobacco Control Alliance Philippines (FCAP) Executive Director Dr. Maricar Limpin said it should be the FDA and not the Department of Trade and Industry (DTI) as provided in the bill, that will regulate e-cigarettes and vapes.
"Definitely, DTI cannot do the job of protecting the health of the country. It is only the FDA who has the power to do that with the leadership of the Department of Health," Limpin said during the media briefing.
Also joining Cayetano and Limpin's call are Southeast Asia Tobacco Control Alliance (SEATCA) Executive Director and Philippine Medical Association (PMA) member Dr. Ulysses Dorotheo, former FDA Director-General Dr. Kenneth Hartigan-Go, Philippine Pediatric Society (PPS) Tobacco Control Advocacy Group chairperson Dr. Rizalina Gonzales, and Health Justice Philippines legal consultant lawyer Benedict Nisperos.
Early this month, DOH Secretary Francisco Duque III expressed his concern with the Vape Bill saying it should not be enacted into law.
"We will just have to wait what happens next, but I doubt that the President will even sign that bill," Duque said at the Kapihan sa Manila Bay forum.
He assured that he is in constant communication with the Office of the President and he remains hopeful that the proposed measure will not be signed by Duterte into law. (PNA)