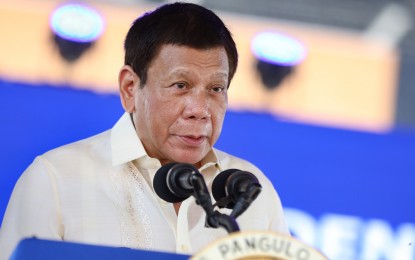 MANILA – President Rodrigo Roa Duterte reiterated on Thursday that he will continue protecting police and military officials and officers facing charges even after he steps down from office on June 30.
Duterte, a lawyer and a former prosecutor, said he could provide free legal help if they were falsely accused of committing abuses while in the performance of their duties.
"Even if I'm no longer a mayor or a President, if it is done in the performance of duty, tutulungan ko kayo maski saan, abugado ako. Ilulusot ko kayo (I will help you to any extent, I am a lawyer. I'll help you get out of it)," he said in a speech during the awarding of Madayaw Residences Units in Davao City.
He expressed confidence that he would be able to justify their actions, especially if it has something to do with "arresting or fighting it out with the criminals and the NPAs (New People's Army).
"Makapatay kayo ng lima, anim diyan (If you happen to kill five, six while in the performance of duty). You know, one burst of the Armalite, brrtt, iba-iba ang matamaan, pati inosente (different people will be hit, even the innocent). Do not worry. That is part of the territory of fighting. I will be there to support you," he added.
Duterte also credited police and military for helping him make Davao City a better place to live in.
"Without the support of the police and the military in the early days of my mayorship, I could not have succeeded. Davao would not be this beautiful, industrial buildings that would make our people happy," he said.
Meanwhile, he urged the International Criminal Court (ICC) to stop threatening to investigate the alleged crimes against humanity carried out in the administration's anti-illegal drugs campaign.
"Ang ICC, nakikinig man kayo, huwag na kayong mag-drama ng idemanda-idemanda niyo (The ICC, if you're listening, stop pretending that you're going to file charges against me)," he said.
He maintained that violence and fear are necessary in law enforcement, particularly in the drug war.
The Philippines formally ended its ties with the ICC on March 17, 2019, or exactly a year after the scrapping of the Rome Statute.
Duterte insisted that the ICC has no jurisdiction to probe the drug war because Philippine justice system is working. (PNA)