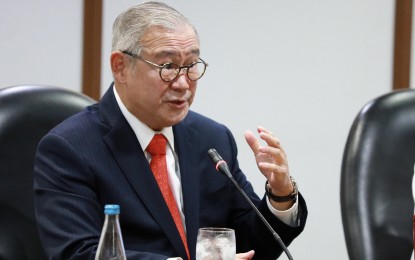 MANILA – The Philippines was the one that initiated the termination of oil exploration talks with China, Foreign Affairs Secretary Teodoro Locsin Jr. revealed Thursday.
In his speech during the Department of Foreign Affairs' (DFA) Foundation Day, Locsin said both sides tried to negotiate for three years and got as far as constitutionally possible.
However, another step forward would have risked a "constitutional crisis".
"That explains the sudden pull-back on my part which unraveled three years of sincere hard work on the part of Wang Yi and me. We had both tried to go as far as we could -- without renouncing China's aspiration on his part; and constitutional limitations on my part. I shut down shop completely," he said.
"The president had spoken. I carried out his instructions to the letter: oil and gas discussions are terminated completely. Nothing is pending; everything is over," he added.
He noted that throughout the three-year talks, the Philippines never surrendered even a particle of its sovereignty.
The top diplomat said it now falls on the next administration's shoulders to protect the Philippine sovereignty "all the way to the wire".
"The irreducible template of what is constitutionally possible is there in black and white. Surrender of any portion of Philippine sovereignty is not an option," he said. (PNA)