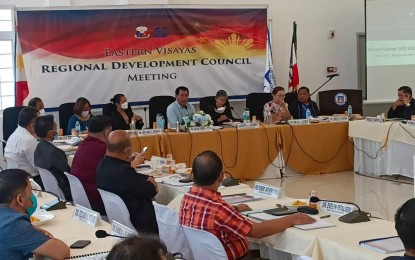 TACLOBAN CITY – Some PHP30.21 billion budget of national government agencies in Eastern Visayas remain undisbursed as of the first quarter of 2022, representing 81 percent of the total obligated funds since last year, the Department of Budget and Management (DBM) reported.
During the first face-to-face Regional Development Council (RDC) meeting that ended late Thursday, the DBM regional office here reported that PHP29.85 billion of funds for the first quarter of 2022 remained unspent by the end of March.
Last year, there was still PHP350 million unspent outlay of various national government agencies in Eastern Visayas, DBM assistant regional director Aleli Hernandez said during the meeting at the new Leyte Provincial Capitol.
"The ideal is that all obligated funds for the quarter should be 100 percent disbursed by the end of the quarter. Agencies should not wait for the near expiration of the validity of the budget to fast-track the implementation," Hernandez said.
Hernandez reminded agencies that they can only spend the 2021 budget until Dec. 31, 2022 while the 2022 allocation can be disbursed only until Dec. 31, 2023.
Unspent allotment will be reverted to the National Treasury.
Of the PHP30.21 undisbursed funds since 2021, PHP27.75 billion are for the infrastructure and utilities sector, PHP1.32 billion for the social development sector, PHP1.08 billion for the economic development sector, and PHP45 million for the development administration sector.
With only 19 percent disbursement, it shows that there is 81 percent undisbursed fund
From 2021 to 2022, national government agencies in Eastern Visayas have an allotment of PHP66.65 billion. Of the total, PHP37.40 billion are obligated, and only PHP7.19 billion are disbursed.
"It's hard to get funding from the national government. Not all our endorsed budgets are being approved at the national level, but here we are not spending what we already have," National Economic Development Authority (NEDA) regional director Meylene Rosales said.
From 2016 to 2022, records show that only 45 percent of the RDC-endorsed budget proposals for selected infrastructure projects have been included in the General Appropriations Act.
"I don't understand why there are undisbursed funds since implementers complied with documentary requirements before fund releases. Underspending means loss of opportunities for economic development in the region," Rosales added.
Among the common reasons raised by government agencies for the unspent budget included the late billing of suppliers and contractors, request for extension of a delivery date, changes in the scope of works, and late issuance of notice of awards.
Other reasons are a revision of the program of works, road right of way acquisition issues, failure of bidding, and lingering effects of the Covid-19 pandemic.
The situation prompted the RDC to enhance its monitoring of budget spending, operationalize the regional inter-agency task force on planning and budgeting, and regular reporting on the review and assessment of agencies' budget utilization. (PNA)