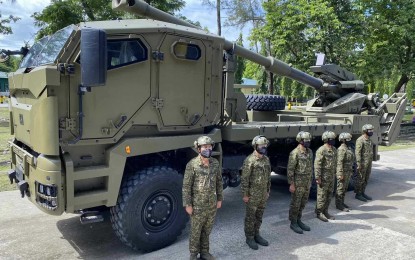 MANILA – The Army Artillery Regiment (AAR) has activated a new unit, the 10th Field Artillery, which will operate the 12 newly-acquired 155mm self-propelled howitzers from Israel.
Philippine Army (PA) spokesperson Col. Xerxes Trinidad, in a statement Friday, said the 10th Field Artillery was activated during the AAR's 15th founding anniversary in Fort Magsaysay, Nueva Ecija on June 22.
PA Inspector General, Maj. Gen. Roy M. Galido, who represented Army commander Lt. Gen. Romeo S. Brawner Jr., headed the activation ceremonies.
"This newly activated unit will surely contribute to our continuing victory in the conduct of combined arms operations," he said in his speech.
The 10th Field Artillery will be led by Lt. Col. Chamberlain A. Esmino.
"As Artilyeros, let us not forget the characteristics that make you the best—speed and accuracy. Speed in providing the much-needed fire support to troops and accuracy in hitting only designated targets and avoiding collateral damage," Galido added.
Earlier, the AAR announced that it had test-fired for the first time its newly-acquired Autonomous Truck Mounted Howitzer System (ATMOS) 155mm/52 caliber self-propelled artillery pieces.
Trinidad said the ATMOS 155mm howitzer system is a "shoot-and-scoot" weapon that can be rapidly deployed in rugged terrain.
"The weapon incorporates an 'inertial navigation system' (INS)-based gun-laying method and an automatic loader," he added.
The Army received 12 ATMOS howitzer units in December 2021 from Israeli defense company Elbit Systems.
As this developed, the Philippine Marine Corps (PMC) announced that it has activated its Shore-Based Air Defense System (SBADS) Battalion last June 22.
The event was headed by PMC Commandant, Maj. Gen. Nestor C. Herico.
"The shore-based air defense system is considered a significant part of all reliable coastal defense systems that protect strategic assets and infrastructures. This is to address the military's gap relative to our capacity to defend our bases and new equipment against aggressors from the air. The SBADS will complement the efforts for sea lines of communications' control, anti-access/area-denial, and coastal and island defense operations under our archipelagic coastal defense strategy," he added.
The SBADS Battalion is the second unit under the Coastal Defense Regiment after the Shore Based Anti-Ship Missile (SBASM) Battalion. (PNA)