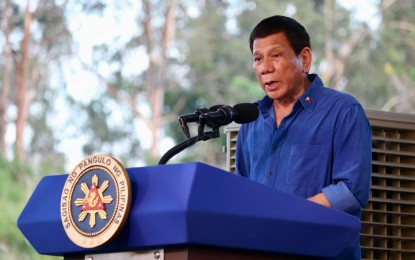 MANILA – President Rodrigo Duterte has ordered government agencies and instrumentalities to support the National Strategy for Financial Inclusion 2022-2028 (NSFI) to ensure that all government efforts on financial inclusion are coordinated and harmonized.
Duterte signed Memorandum Circular No. 97 on Thursday to institutionalize whole-of-government support for the NSFI, which serves as a "shared blueprint" that aspires to achieve financial inclusion toward financial resilience for Filipinos.
Under the memorandum, all departments, agencies, and instrumentalities of the government shall incorporate relevant priority initiatives under the NSFI in their respective programs, policies, and budgets.
They are also directed to participate in working groups created by the Financial Inclusion Steering Committee (FISC) and other NSFI initiatives, as well as provide relevant data, subject to data sharing regulations. for purposes of monitoring and evaluation of the NSFI's implementation.
All regional development councils (RDCs) and equivalent bodies are enjoined to adopt financial inclusion as a development agenda.
All local government units are also encouraged to promote financial inclusion within their respective jurisdictions, particularly in their capacity development programs, provincial development and physical framework plans, as well as other local planning, programming and budgeting, local legislation, project development, implementation, and monitoring and evaluation activities.
The FISC is tasked to coordinate with and provide technical assistance to RDCs and LGUs in the implementation of the circular, particularly in incorporating NSFI objectives, priorities, and targets in their respective plans and programs.
The committee shall also conduct information and education and communication activities towards building public understanding of the NSFI.
According to Bangko Sentral ng Pilipinas, NSFI 2022-2028 was developed to align with and support the broader national aspirations of the Philippine Development Plan and the AmBisyon Natin 2040 vision. (PNA)