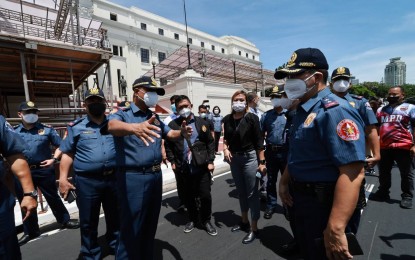 MANILA – The Philippine National Police (PNP) on Friday announced the activation of the "Task Force Manila Shield" on June 28 or two days before the inauguration of President-elect Ferdinand "Bongbong" Marcos Jr. at the National Museum of the Philippines.
Maj. Gen. Valeriano de Leon, PNP director for operations, said the task force will ensure maximum security for the oathtaking of Marcos, the country's 17th Chief Executive.
He said part of it is the setting up of checkpoints and chokepoints in all the entry points of the City of Manila for three straight days and the gun ban in Metro Manila, which begins on June 27.
"All vehicles entering the city of Manila will pass through checkpoints that will be set up in all entry points of the city. This is to prevent criminal elements and troublemakers the opportunity to strike before and during the inauguration of our next President," de Leon said in a statement.
He said police commanders in Metro Manila and adjacent provinces were also instructed to intensify intelligence-gathering that will focus on monitoring and preemptive strikes against threat groups amid reports that there are groups that are planning to sabotage the inauguration of Marcos.
De Leon, who has been personally supervising the security measures for the June 30 inauguration since day one of its planning, said they will also see to it that any protest action is done in the proper places while respecting their rights to assemble and air their freedom of speech.
"There will be freedom parks assigned to the protesters, so we appeal to them to go and stay on those freedom parks to prevent unnecessary confrontation with our CDM (civil disturbance management) units. As instructed by our PNP officer-in-charge Lt. Gen. Vicente Danao Jr., we will exercise maximum tolerance but at the same time we will not allow them to create trouble, so I appeal to them anew to use the freedom parks designated for them to stage their protest," he added.
De Leon said they are trying to reach out to various groups that are planning to hold protest actions to ensure that no untoward incidents will mar the event.
More than 15,000 policemen, soldiers, Coast Guard personnel, and other force multipliers will be deployed to secure the inauguration rites. (PNA)