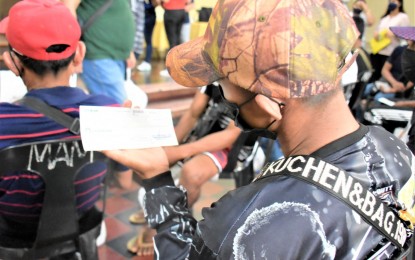 BACOLOD CITY – Some 27 former rebels and militias of the Communist Party of Philippines-New People's Army (CPP-NPA) in Negros Occidental have received almost PHP770,000 in cash assistance under the government's Enhanced Comprehensive Local Integration Program (E-CLIP) earlier this week.
Data from the Philippine Army's 303rd Infantry Brigade (IBde) on Friday showed the recipients included 19 combatants, who were given immediate assistance and livelihood assistance of PHP570,000, and two, with PHP109,000 as firearm remuneration.
Six Militia ng Bayan members also got an immediate assistance of PHP90,000.
The beneficiaries, who surrendered to the troops of the 79th, 94th, and 62nd Infantry Battalions (IBs) since last year, received assistance from the Department of the Interior and Local Government and the Negros Occidental provincial government.
Brig. Gen. Inocencio Pasaporte, commander of the 303IBde, acknowledged the continued support of the Provincial Task Force to End Local Communist Armed Conflict to the former rebels.
"This is solid evidence that the provincial government of Negros Occidental is sincere in its commitment to helping rebels to start anew, live normal lives again with their families," he said.
Pasaporte called on the remaining NPA rebels anew to surrender peacefully since they are just victims of the lies and deceptions of the CPP-NPA.
Under the E-CLIP, a former rebel is also entitled to receive immediate assistance of PHP15,000; livelihood assistance, PHP50,000; firearms remuneration, PHP12,000 to PHP500,000; half-way house assistance; PhilHealth enrollment and medical assistance; education assistance; housing assistance; legal assistance; and healing and reconciliation initiatives.
The CPP-NPA is listed as a terrorist organization by the United States, European Union, the United Kingdom, Australia, Canada, New Zealand, and the Philippines.
The Anti-Terrorism Council also formally designated the National Democratic Front as a terrorist organization on June 23, 2021, citing it as "an integral and separate part" of the CPP-NPA that was created in April 1973. (PNA)