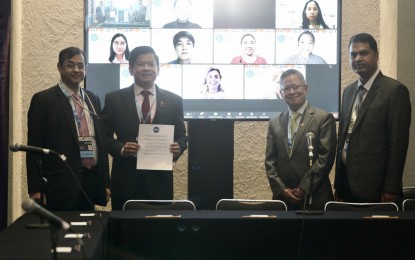 PUEBLA, Mexico – Freedom of Information (FOI) Philippines co-hosted "Getting to Know Asian Access to Information Alliance (AAIA): Plans, Perspectives, and Partners" during the 13th edition of the International Conference of Information Commissioners (ICIC) here on Thursday.
Presidential Communications Operations Office (PCOO) Undersecretary Kristian Ablan, also the FOI Program Director, facilitated the proceedings of the regional network meeting which was part of the official activities of the ICIC.
It aimed to introduce the AAIA objectives, membership process, progress of engagements, and updated timeline of activities; gather feedback from prospective members regarding the purpose and objectives of AAIA; and encourage more Asian access to information (ATI) bodies to become members of AAIA.
"This conference presented a good opportunity to further deepen the FOI practice not only within our respective countries but more importantly within our [Asian] region. I believe that there is still much to be learned from our regional counterparts, and we hope that this Alliance will further advance our mutual goals and objectives in enriching the discourse and the strengthening of promoting and guaranteeing the people's right to access information," Ablan said in a news release on Friday.
The AAIA initiative was mutually supported by attending parties, but is still subject to official approval of the prospective members' governments.
The Alliance will be formalized through the signing of a Joint Declaration of Cooperation.
In attendance were Chief Information Commissioner Mortuza Ahmed of Bangladesh; and Chief Information Commissioner Mahendra Man Gurung and Secretary of the Commission Bhagirath Pandaya of Nepal.
FOI Center president Shushan Doydoyan of Armenia, Public Sector Development Officer Choty Sanguanphant Wechaporn of Thailand, and Central Information Commission technical staff Aditya Nuriya Sholikhah of Indonesia joined the meeting virtually.
Prior to the regional meeting, Ablan served as one of the panelists of the session "Taking regional needs into account: A view of ATI sub-networks and beyond" to share the key drivers and motivation to form AAIA.
"The FOI landscape is composed of a diverse community. While we are honored to be recognized by the ICIC as an active member, I still think that there is value if networks sharing similar history and understanding on access to information are to join forces to reach wider impact," Ablan said.
The session, organized by United Nations Educational, Scientific and Cultural Organization (UNESCO), is a further proof of the increasing interest of the international community on the establishment of global and regional networks of transparency and accountability institutions.
Ablan was joined in the panel by Lucy Ndung'u, Information Commissioner of Kenya; Elsa Fernandez, director general for the National Authority for Transparency and ATI of Panama; Ibrahim Seaga Shaw, chair of the Right of ATI Commission of Sierra Leone; Marcos Mendiburu, UNESCO consultant for Access to Information in Latin America; Borja Diaz Rivillas (via Zoom), ATI expert; and Marius Lukosiunas, UNESCO Communication and Information advisor. (PR)