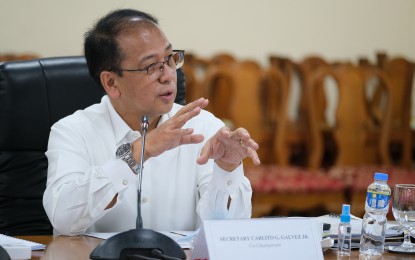 MANILA – The government has provided for the needs of former Moro Islamic Liberation Front (MILF) combatants, including financial assistance, social entrepreneurship projects, and skills development training which are among the several accomplishments of the Bangsamoro peace process initiatives under President Rodrigo Duterte.
The Office of the Presidential Adviser on the Peace, Reconciliation, and Unity (OPAPRU) said the dividends of peace now being felt in Mindanao should be sustained by the next administration.
OPAPRU Secretary Carlito Galvez Jr., in a statement on Friday, lauded the Inter-Cabinet Cluster Mechanism on Normalization (ICCMN) for effectively pushing for the implementation of the Comprehensive Agreement on the Bangsamoro despite the Covid-19 pandemic.
The ICCMN is composed of inter-agency members and manages four clusters based on the major components of the normalization track: security aspect, socio-economic development program, confidence-building measures, and transitional justice and reconciliation.
"We have provided immediate cash assistance to 19,345 decommissioned MILF combatants under phases 2 and 3; implemented 41 social entrepreneurship projects for decommissioned MILF members, their families, and communities; given emergency employment to 1,028 decommissioned combatants under phase 2; and conducted integrated skills development training for 1,353 decommissioned MILF members or their next-of-kin," Galvez said, citing the ICCMN report.
Galvez urged the ICCMN member agencies to continue "the efficient and effective delivery of services under the normalization program and collaboration" with its peace partners.
"Thank you to each and every one of you for supporting the Duterte administration's peace and development agenda over the past six years. May you all continue to provide the same level of support to the incoming administration," Galvez told the member agencies.
Among the recent ICCMN accomplishments under the normalization program this year are the conduct of two Joint Peace and Security Team refresher courses and unarmed civilian protection training by the Joint Peace and Security Committee and Non-violent Peace Force; conduct of National Special Qualifying Exam for more than 10,000 MILF and Moro National Liberation Front members wanting to join the Philippine National Police; approval by the National Task Force on the Disbandment of Private Armed Groups of the joint operational guidelines of the Armed Forces of the Philippines; and a consensus that a memorandum of agreement among concerned ICCMN member-agencies will be crafted for the rehabilitation and integration initiatives of private armed group members who have surrendered to the government.
The government also launched two major projects, namely the Legal Identity and Social Services for Decommissioned Combatants (ALIAS-DC) Project and the Programme on Assistance for Camp Transformation through Inclusion, Violence Prevention and Economic Empowerment or project, both funded by the European Union, United Nations, Australian Government, and the project and development cluster of the Bangsamoro Autonomous Region in Muslim Mindanao.
MILF members residing in six active camps were assisted by the Joint Task Force on Camps Transformation, in partnership with the Philippine Statistics Authority, for their Philippine Identification System and birth certification registration. (PNA)