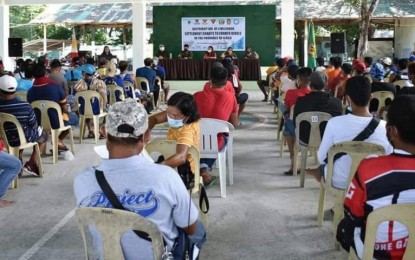 ILOILO CITY – The Department of Social Welfare and Development (DSWD) completed the release of a livelihood settlement grant (LSG) to 151 former rebels (FRs) in Iloilo Province on Friday.
"We started our payout yesterday afternoon in Miagao, Iloilo for 104 FRs and this afternoon at Janiuay for the remaining 47. This will complete our target of 164 FRs to be provided with LSG this year," Sustainable Livelihood Program Regional Program Management Office head Mary Ann Masculino said in an interview.
The rest of the recipients were from the province of Antique.
The beneficiaries that were given their assistance during Thursday's distribution at Camp Monteclaro in Brgy. Igtuba, Miagao were from the towns of San Joaquin, Igbaras, Tubungan, Leon, and the host municipality.
The livelihood assistance worth PHP20,000 each was for projects that the recipients had chosen to engage in during their coaching session.
They included the production of bamboo "amakan" or woven bamboo mat, backyard hog fattening/hog-raising, banana and peanut production, buy and sell, livestock-raising, cultured mushroom production, food vending, furniture making, crops production, and native chicken-raising.
The provision of the grant is a commitment of the DSWD, a member of the livelihood cluster of the Poverty Reduction, Livelihood and Employment Cluster (PRLEC) of the National Task Force to End Local Communist Armed Conflict.
After the assessment by the Enhanced Comprehensive Local Integration Program, the former rebels are referred to the PRLEC if they need livelihood intervention.
"We intend to request funding from our national office since there are more FRs needing livelihood assistance, specifically from Iloilo province," Masculino added.
A former rebel, alias Marigold", thanked the government for the assistance.
"Sa tulad indi lang Covid ang aton nga kontra, ang aton gina atubang pati ang kapigaduhon gina atubang man namon, ti sa tulad nga adlaw, amo run dya ang tikang kang aton nga gobyerno kun paano kita mabuligan (Right now our enemy is not just Covid. We are also facing the problem on poverty but today is already the beginning of our government helping us," she said.
Capt. Kim Apitong, officer-in-charge at the 3rd Division Public Affairs Office (3rd DPAO) of the 3rd Infantry Division said the event was proof of the government's sincerity in responding to the socio-economic problem of former rebels.
"This event will send a message for other rebels to surrender," he added. (PNA)