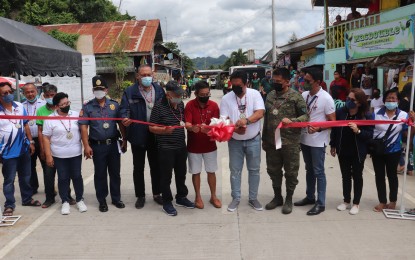 DUMAGUETE CITY – The newly inaugurated Hilaitan-Trinidad concrete farm-to-market road in the hinterlands of Guihulngan City, Negros Oriental is expected to address the problem on insurgency and boost the economy in the area.
The Hilaitan-Trinidad farm-to-market road was inaugurated on Thursday and was facilitated by the Philippine Rural Development Project (PRDP) at Barangay Trinidad in Guihulngan City.
Brig. Gen. Inocencio Pasaporte, commander of the 303rd Infantry Brigade of the Philippine Army, told the Philippine News Agency on Friday that the opening of the road brings with it several positive impacts for the people apart from being a deterrent to the activities of the Communist Party of the Philippines-New People's Army (CPP-NPA).
"The opening of the road has created an enabling condition for livelihood and economic development activities," he said.
At the same time, this will facilitate and speed up the delivery of government services, considering that in the past, the local government unit (LGU) and agencies due to the area's inaccessibility.
"The road was in such poor condition before that a person had to pay a "habal-habal" or public motorcycle-for-hire PHP500 for a ride," he said.
It will act as a deterrent to the problem of insurgency and to the communist terrorist groups (CTGs) to recruit from the local populace in the so-called Geographically Isolated and Disadvantageous Areas of Guihulngan, Pasaporte said.
The said farm-to-market road is approximately 18.5 kilometers and connects Barangays Hilaitan, Maniak, and Trinidad. It was sponsored by the World Bank, and supported by the PRDP.
Pasaporte said the area serviced by the road used to be a "rebel lair" of the CPP-NPA, but in 2020, Barangay Trinidad was cleared of the insurgency following sustained operations through the Army's Community Support Program.
Pasaporte, Gov. Roel Degamo, Guihulgan Mayor Guido Reyes, Engr. Jose Albert Barrog PRDP deputy project director, local officials, representatives from the Department of Agriculture, the Philippine National Police, and other stakeholders were present during the inauguration.
The CPP-NPA is listed as a terrorist organization by the United States, European Union, the United Kingdom, Australia, Canada, New Zealand, and the Philippines.
The National Democratic Front has been formally designated as a terrorist organization by the Anti-Terrorism Council on June 23, 2021, citing it as "an integral and inseparable part" of the CPP-NPA created in April 1973. (PNA)