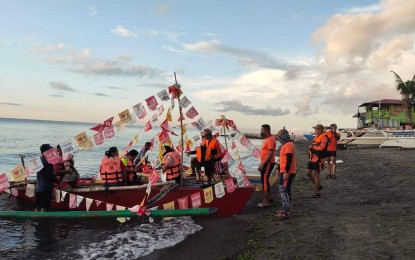 DUMAGUETE CITY – The Philippine National Police (PNP) and the Philippine Coast Guard (PCG) Station in Negros Oriental on Friday beefed up their security in the coastal areas and bodies of water as people celebrated the Feast of St. John, the Baptist.
By tradition, residents here celebrate the feast of St. John, who baptized Jesus Christ and His followers, by going to the beaches, lakes, and rivers, as water symbolizes the rite of baptism, and as a form of thanksgiving.
Lt. Junior Grade Mark Tolentino, the PCG station commander here, told the Philippine News Agency that a fluvial parade early in the morning went smoothly with no untoward incident along the coast of this capital city.
The fluvial parade commemorated the birthday of St. John, the patron saint of Barangay Looc here, which is celebrating its annual fiesta on the same day.
Tolentino said six motorboats that participated in the fluvial parade left before sunrise from the beaches of Barangay Calindagan and ended up at the coastline of Barangay Looc.
"To ensure the safety of the passengers and avoid overloading, a Coast Guard personnel was deployed to board each of the boats," he said.
Meanwhile, Col. Germano Mallari, provincial police director, said uniformed personnel were deployed at various beaches to ensure the safety of the people.
With the easing of quarantine restrictions in relation to the coronavirus disease 2019 (Covid) pandemic, beaches are now opened to the public compared to the past two years, he noted.
Mallari said it is difficult to maintain social distancing or even require beach-goers to wear face masks, so the best they can do is just to ensure peace and order.
"We are hoping that people are still safety conscious and would not drink too much alcohol and go swimming while intoxicated," he said. (PNA)