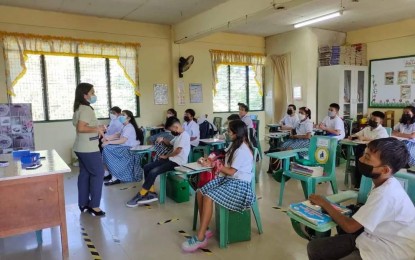 MANILA – The Department of Education (DepEd) and several public school educators on Friday expressed their joy after President Rodrigo Duterte approved the expansion of the Career Progression System for Public School Teachers.
Lorainne Saway, 27, an elementary public school teacher for six years, said the approval of Executive Order 174 opens a wider array of opportunities for her career growth.
"Mas mabilis ang promotion ng mga teachers kasi una, marami ng mga vacancies na pwedeng i-fill up. Dati kasi matagal ang promotion kasi puno ang mga positions. Pangalawa when it terms sa professionalism, kung dati kailangan makatapos ka ng masteral para ma-promote, ngayon kahit on going ang pag-aaral mo pwede ka na ma-promote kahit teacher 2 ka," she told the Philippine News Agency.
(The promotion of teachers is much faster, because, first, there are a lot of vacancies that may be filled up. Before the promotion seems so lengthy because positions were all taken. Secondly, professionalism, if before you need to finish a masteral [degree] before promotion, now even though your [masteral] study is ongoing, you can be promoted even if you're teacher 2.)
Saway said many teachers will benefit from a greater count of career progression positions, as well as technical development.
Likewise, Leilanie Monleon, 55, a secondary public school teacher for 33 years, welcomed the new directive.
"I think there is a positive side which can be considered good for educators like us," she told the Philippine News Agency.
Monleon finally reached the Teacher 3 position as she nears her retirement. However, she said promotion in the newly-approved progression system may take a longer time.
"Dati up to teacher 3 lang now up to 7 na (Before it's just up to Teacher 3, now it's up to 7). It takes too long to reach the top. Kumbaga (It's like a) long journey," she added.
The DepEd, meanwhile, said Thursday night it is "jubilant" to include expanded sets of positions for teachers.
In a statement, the DepEd said this would "create new position titles namely Teacher IV, Teacher V, Teacher VI, Teacher VII, and Master Teacher V, and promote professional development and career advancement among public school teachers."
Moreover, they assured the public they will closely work with other agencies to ensure the smooth implementation of the system.
"We shall work with the Civil Service Commission (CSC), the Department of Budget and Management (DBM), and the Professional Regulation Commission (PRC) in formulating the rules and regulations of the EO," the DepEd said. (PNA)