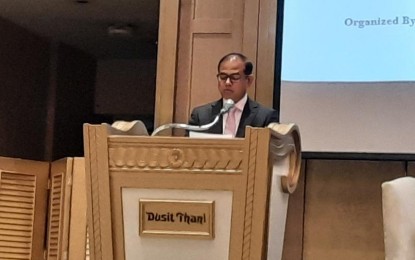 MANILA – The Philippines and Bangladesh can further strengthen their 50 years of diplomatic ties by partnering in critical sectors that will address pressing challenges in both countries.
In a business seminar of the Bangladesh Embassy in Makati City Friday, Bangladesh Ambassador to Manila F.M. Borhan Uddin cited that food, pharmaceutical, and climate change and risk reduction are areas where the two countries can explore more opportunities.
Uddin said Filipino and Bangladeshi businesses should explore the sectors of agriculture and food processing where both countries can complement each other and bring solutions to rising commodity prices that both nations are experiencing.
He said Dhaka can also help in Manila's pandemic response by supplying therapeutics.
Bangladesh Embassy Counsellor Sayma Razzaki added that pharmaceutical is an industry where Bangladesh was able to transform itself from being an importer to a self-sufficient and exporter of pharmaceutical products.
She said 97 percent of its pharmaceutical industry's production is serving the domestic market and the rest are being exported to 100 countries.
Firmlink Pharma Private Ltd. executive director Jingle Garcia also shared that when India banned exporting medicines to serve the need of its domestic market amid the surge in Covid-19 cases in the past, Bangladesh was able to cover these drugs, which include remdesivir and tocilizumab, that manage severe Covid-19 symptoms.
Garcia added that Bangladesh can also be an alternative source for pharmaceutical products for the Philippines, as prices are lower compared to medicines from India.
Moreover, the envoy said the Philippines and Bangladesh should look into a partnership in addressing climate change as both countries are vulnerable to natural disasters like typhoons and severe flooding.
Uddin added that aside from food, pharmaceutical, and climate change, the Philippines and Bangladesh should also explore opportunities in healthcare services, medical equipment, information technology, garments, shipbuilding, and tourism among others.
In 2021, Philippine-Bangladesh bilateral trade amounted to USD110 million, which already surpassed the USD75 million two-way trade value before the pandemic.
"This volume does not apparently sound impressive after 50 years," Uddin said.
To strengthen the trade and investment ties between the Philippines and Bangladesh, Uddin cited some recommendations both for the government and the private sector of the two countries.
These recommendations include further enhancement of high-level investments; intensive communication between the business leaders of the two countries; periodical visits of government and business delegations; identifying prospective products to enhance trade and sectors for joint investments; considering the institution of a national business council between the two countries; and reviewing existing agreements and memoranda of understanding between the two governments. (PNA)