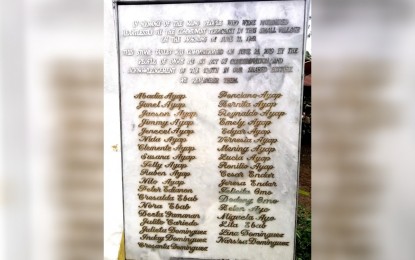 MANILA – The government has brought insurgency to near annihilation more than three decades after the Rano massacre in Digos, Davao del Sur where 38 members of an indigenous peoples (IP) community were massacred by communist rebels.
The Rano massacre was the most brutal, inhumane, and barbaric act committed by the Communist Party of the Philippines-New People's Army-National Democratic Front (CPP-NPA-NDF), according to Presidential Communications Undersecretary Lorraine Badoy.
"We will not forget the sanctity of our job as a public servant and how, when we hold a public office, what we really hold in our hands are the [safety of the] Filipino people and their children," Badoy, also the spokesperson of the NTF-ELCAC Social Media Affairs and Sectoral Concerns, said in a statement on Saturday.
On June 25, 1989, the 38 members of the Bagobo-Tagabawa tribe who gathered for worship at the United Church of Christ in the Philippines were killed in Sitio Rano, Barangay Binaton by a group of NPA rebels led by alias "Kumander Bensar".
"More than half were children. One of them was pregnant. We ask that you keep them in the sacred spaces of your memory and to never forget them and the outrage done to them by the CPP-NPA-NDF," Badoy said.
"On this day 33 years ago, blood gushed in Rano. Children were stabbed repeatedly so that they swam in their own blood. The last moments of their brief lives on Earth were full of terror, being chased by full-grown mad men with machetes and seeing their own fathers beheaded," she narrated.
Badoy previously said that when President Rodrigo Duterte certified the Anti-Terror Act as urgent, he had the Rano massacre in mind.
"This is what the Rano massacre has taught us at the NTF-ELCAC. And this is what our President has taught us, too. Not too much in words but by his constant and non-stop action for us," Badoy said, referring to how President Duterte made it one of his priorities to destroy the CPP-NPA-NDF and convince rebels to give up the armed struggle through livelihood packages that will enable them to rejoin mainstream society.
Their only "crime", Badoy said, was rejecting the CPP-NPA-NDF in their communities.
Badoy said President Duterte has the "courage, the heart, the political will, the experience, and expertise" to bring down the CPP NPA NDF.
"Under his watch, the CPP-NPA-NDF has been brought to its knees and we can end this soon," she added.
Badoy reiterated what Duterte had repeatedly said that good governance is the only way to end the communist armed revolution.
"And PRRDs marching orders to us were crystal clear: If you want to end this, there are only two words to this: good governance. Serve the people," she said.
As Duterte steps down from office on June 30, Badoy vowed the government will continue defending and fighting for the lives of Filipinos against insurgency.
"Our hearts are heavy [that he is leaving] but we will assure you that he will never leave us. And neither will we. We will destroy the terrorist CPP-NPA-NDF and their fronts and we will name them and shame them. And we will continue to build schools, roads, health centers, and livelihood, among others. Nothing can stop us," Badoy said.
The CPP-NPA is listed as a terrorist organization by the United States, the European Union, the United Kingdom, Australia, Canada, New Zealand, and the Philippines.
The Anti-Terrorism Council also formally designated the NDF as a terrorist organization on June 23, 2021, citing it as "an integral and inseparable part" of the CPP-NPA that was created in April 1973. (PNA)