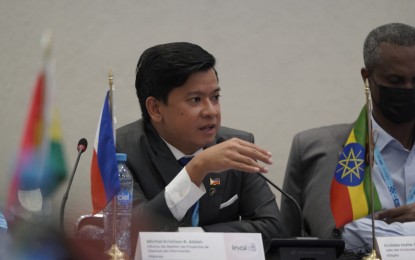 PUEBLA CITY, Mexico – The Philippines will host International Conference of Information Commissioners (ICIC) in 2023.
The ICIC Secretariat made the announcement during the closing ceremony of the Conference in a closed-door session presided by the Commissioners of Mexico's National Institute for Transparency, Access to Information, and Data Protection (INAI) on Saturday.
"The Evaluation Committee reviewed the submitted applications, considered aspects ranging from the experience and capacity of the applicant authority in organizing international events, as well as the proposed venue, accommodation, and financing options," INAI Commissioner Adrián Alcalá announced.
The ICIC called for applications to host the 2023 Conference last February 2021 which required interested parties to prepare a comprehensive documentation and high-level project plan outlining their proposed agenda for ICIC 2023 and 2024.
The Philippine delegation, led by Presidential Communications Operations Office (PCOO) Undersecretary and FOI Program Director Kristian Ablan, accepted the conferment.
"On behalf of the Freedom of Information (FOI) Philippines and the Republic of the Philippines, we wholeheartedly accept and take on the role of hosting the ICIC 2023," Ablan said.

Ablan also thanked outgoing President Rodrigo Roa Duterte for passing Executive Order (EO) No. 2, s. 2016, and PCOO Secretary Martin Andanar for championing Filipinos' right to access public information through the FOI Program.
"We still have a long way to go but with this outgoing administration, we have laid the foundation for a transparency mechanism," Ablan said.
It can be recalled that the EO on FOI was one of Duterte's campaign promises after 35 years of calling for the immediate passage of the FOI law.
The FOI Project Management Office of the PCOO spearheads the implementation of the FOI Program since 2016, and has made considerable efforts in pushing forward an increased access to information in the country.
"I couldn't be more excited to welcome everyone to the Philippines next year. We will do our best to give you a memorable, meaningful, and substantial ICIC Annual Meeting in 2023. We hope to see you all in ICIC PILIPINAS 2023!," he said.
The Philippines is the first Southeast Asian country to host the Conference, following Mexico (2005 and 2022), South Africa (2004 and 2019), United Kingdom (2017 and 2006), Chile (2015), Germany (2013 and 2003), Canada (2011), Norway (2009), and New Zealand (2007). (PR)