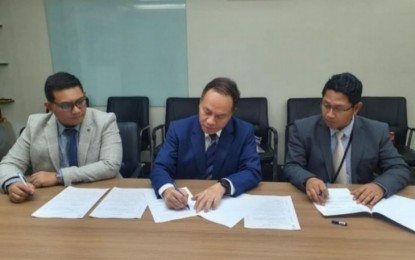 SURABAYA, E Java – State-owned shipbuilder PT PAL Indonesia received an order from the Department of National Defense (DND) of the Philippines for two landing platform docks (LPDs).
The company and the Philippine government signed the sale and purchase contract in Manila on June 24.
Willgo Zainar, chief marketing officer of PT PAL Indonesia, said it was the second time that PT PAL Indonesia had received the order for warships from the Philippines.
"We are proud to be able to contribute to the defense of Asean countries. We also laud the trust of the Philippines for choosing PT PAL for the second time to provide maritime defense equipment," he said.
He said the company was urged to build two warships since the Philippine government was satisfied with the operation of two Strategic Sealift Vessel (SSV) landing docks that had been delivered by PT PAL several years ago.
"In addition to the excellent quality of the product, one of the Philippine delegates, who visited PT PAL Indonesia some time ago, also said that they were satisfied with the after-sales services provided by us," he said.
Zainar said the second order from the Philippine government demonstrated that the trust of the global market in the corporation's capacity and capability in procuring defense equipment had increased.
"It cannot be separated from the role of the Indonesian government that has trusted and supported us. It is also an attempt of PT PAL as part of (the state-run defense industry holding) Defend ID to rank among the top 50 global defense industries," he noted.
In addition, the enterprise is recognized to have an excellent welding technology, as proven by the Zero-Defect predicate received for the development of the joint section of the Indonesian navy's submarine KRI Alugoro-405.
Meanwhile, the landing docks currently ordered by the Philippine government will be built in Surabaya.
The ships are planned to have a length of 123 meters (m) and a height of 21 m, weighing 7,200 tons, and with a cruising endurance of 30 days. (Antara)