MANILA – The Philippines and France on Sunday formally marked 75 years of diplomatic relations, with the latter seeing closer engagements on food security and education.
"We really have had this very long friendship and cooperation, we're celebrating the 75th anniversary but our relations are even older than that," French Ambassador Michèle Boccoz said during the 75th-anniversary celebration at Pinto Art Museum.
"[It's] definitely a long story. So we're very happy now to look towards the future because what we want is to bring our youth together, to bring our people closer. So we are working and creating and educating together," she added.
Foreign Affairs Secretary Teodoro Locsin Jr., who was also present at the anniversary, hoped for deeper friendship and partnership as he noted how far the two countries' relations reached since June 1947.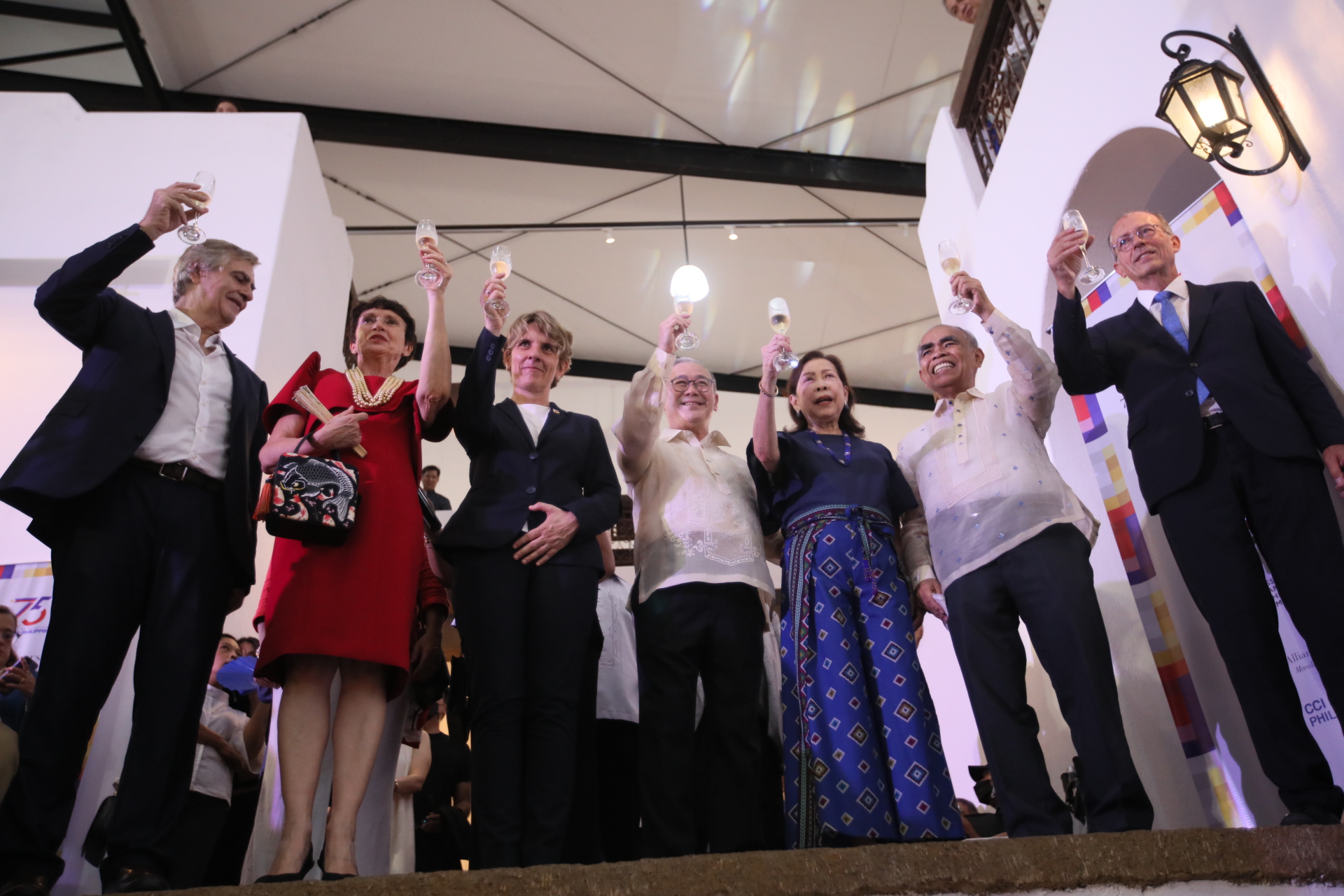 "[Join me] in wishing ourselves, among others, peace, prosperity, good health; the freedom to continue our friendship and cooperation; equality and reciprocation in our actions in the spirit of brotherhood to advance our common interest," he said.
Banking on the exchanges Manila and Paris had for over seven decades, Boccoz is optimistic the two nations would be able to do so and further "step up and upgrade the relationship."
"We understand that there's continuity in a number of areas -- energy, climate change, education, and food security seem to be priorities so it's very likely that we will continue digging more deeply into those," she told reporters.
"And then it's post-Covid so we all need to recover, we all need to build our economies back better and stronger. And so this is an opportunity for both countries," she added.
Boccoz, in an interview, said the embassy has also established contact with the incoming administration and is now waiting to see how it will delineate its priorities after the inauguration.
Next week, the envoy is set to meet with Vice President-elect Sara Duterte to discuss education as a "key priority" in the two nations' cooperation.
"Education is the best basis in whatever area we're talking about, education is at the core of it. I think both our nations value education very much," she said.
Significant milestone
Diplomatic relations between France and the Philippines were first established in 1947 when both countries signed the Treaty of Amity in Paris.
Following the historic state visit of former French President François Hollande to the Philippines in 2015, the two nations' relations became more centered on a commitment to ensuring a free and open Indo-Pacific area and upholding international law, joint action in the fight against climate change, and promoting cultural exchanges between their people.
To celebrate these 75-year ties, several events will be organized throughout the second half of 2022.
On June 26, the two nations launched the "Diamond in the Rough" exhibit at the Pinto Art Museum in Antipolo, Rizal, featuring art pieces by French artists who have lived in the Philippines and Filipinos who have lived in France. It will be open for public viewing from June 27 to August 7, 2022.
Also on Sunday, Boccoz inaugurated the France-Philippines Friendship Park at the Las Piñas-Parañaque Wetland Park, symbolizing the two countries' commitment to protecting the environment and biodiversity.
Last June 23, the bust of Dr. Jose Rizal was also unveiled in the 9th arrondissement of Paris, the first one to be erected in a public place in France.
Rizal first arrived in France in 1883 and stayed there for three months before he went to Madrid to study. He returned to train under ophthalmologist Dr. Louis de Wecker from 1885-1886 and traveled to France intermittently up to 1891 when he finished writing his second novel El Filibusterismo in Biarritz, France.
Apart from the said events, the 75th-anniversary celebration will also be marked by notable activities, such as:
- Fête de la Musique: "Tara, Allez !" from June 21 to 28
- French conductor Michael Cousteau and Philippine Philharmonic Orchestra's concert on July 10
- Exhibition game with members of France's Lyon-Villeurbanne Basketball Team in August and September
- French Film Festival
- Goût de France culinary Festival
The two countries are also set to organize a series of meetings and events to promote their economic and trade relations. (PNA)