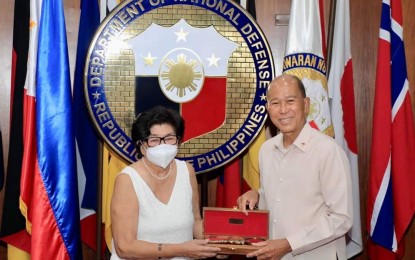 MANILA – Outgoing Department of National Defense (DND) Secretary Delfin Lorenzana said the appointment of Dr. Clarita Carlos as the incoming National Security Adviser is actually a homecoming of sorts as she served as a president of the National Defense College of the Philippines (NDCP).
"Her appointment is actually like a homecoming to the Department since she previously served as the 16th President of the National Defense College of the Philippines from 1998 to 2001. Known for being feisty and media savvy, she holds the distinction of being the first and only female civilian to lead the higher institution for national defense and security," Lorenzana said in his Facebook post over the weekend.
Lorenzana added that he had a pleasant and insightful chat with Carlos a few days ago and said the DND is happy to have her back.
Carlos is a retired political science professor at the University of the Philippines-Diliman.
She was also a consultant in Congress and other government agencies, including the Office of the Presidential Adviser on the Peace Process.
Carlos also authored books and papers about political parties, elections, defense and security, and foreign policy, among others.
In another Facebook post, Lorenzana added that he also met with his successor, incoming DND officer-in-charge and senior undersecretary, retired Armed Forces of the Philippines (AFP) chief Gen. Jose C. Faustino Jr. last June 23.
"We met with Gen. Jose C. Faustino and his incoming staff. He was briefed on the mission and functions of the Department and the principal duties of the Secretary," he added.
Also, Lorenzana said the presentation was short as Faustino is very familiar with the DND, having just retired as AFP chief last November.
"As I said previously, he will hit the ground running as Head of the DND. Welcome aboard, Gen. Faustino and team. Good luck!" he added.
Faustino will assume office as DND secretary on November 13, after the one-year appointment ban on retired military officials.
Faustino took over the AFP leadership from Gen. Cirilito Sobejana who retired from military service on July 31, 2021.
He retired as AFP chief after reaching the mandatory retirement age of 56 on November 12 of the same year.
Before being named as the 56th AFP chief-of-staff, Faustino was the head of the Joint Task Force Mindanao and has also served as the acting commanding general of the Philippine Army.
He is a member of the Philippine Military Academy Class of 1988. (PNA)