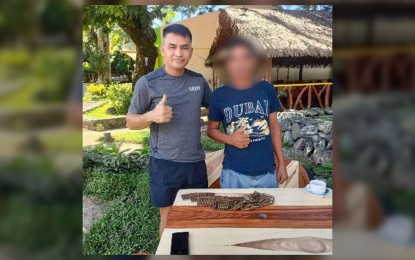 BALER, Aurora – Two former supporters of the Communist Party of the Philippines - New People's Army (CPP-NPA) surrendered weapons and ammunition to the Philippine Army's 91st Infantry "Sinagtala" Battalion (91IB) based in Barangay Calabuanan in this capital town of Aurora.
Lt. Col. Julito Recto Jr., acting commander of 91IB, said on Monday Enriquito Samolde, a former president of Nagkakaisang Samahang Maralita ng Dicalayungan; and Gemma Manlogon, a member of Renewed Strength Dinadiawan Association, decided to yield the weapons and ammunition Sunday as they expressed full support to end local communist armed conflict in the province.
Samolde surrendered 36 M14 rifle ammunition and 100 M16 rifle ammunition owned by remnants of the dismantled Komiteng Larangang Guerrilla (KLG)-Sierra Madre.
Manlongon turned over two unserviceable Cal .38 revolvers owned by KLG Platoon Norte, Aurora Provincial Committee.
"It was successfully negotiated by our troops wherein the two CTG supporters voluntarily surrender(ed) the ammunition and firearms as they want to return into the fold of the law and live peacefully in the community, together with their families," Recto said in an interview.
"It was also a result of the recently concluded three-day peace orientation towards a transformation program wherein 28 former members of the New People's Army and 222 members of seven people's organizations participated," he added.
The firearms and ammunition are now under the custody of 91st IB.
The CPP-NPA is listed as a terrorist organization by the United States, European Union, the United Kingdom, Australia, Canada, New Zealand, and the Philippines.
The National Democratic Front was formally designated as a terrorist organization by the Anti-Terrorism Council on June 23, 2021, citing it as "an integral and inseparable part" of the CPP-NPA created in April 1973. (PNA)