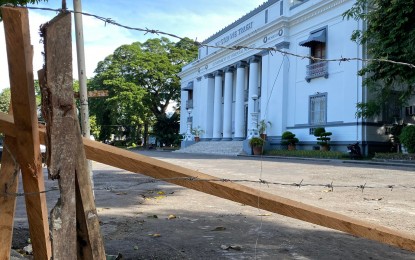 DUMAGUETE CITY – The Negros Oriental Provincial Police Office (NOPPO) on Monday said it is prepared to avert any disturbance on or before June 30 amid a looming power struggle between two gubernatorial candidates in the recent polls.
NOPPO director Col. Germano Mallari said a security plan was set to be implemented beginning Tuesday, but incumbent Governor Roel Degamo asked for its deferment.
"We were supposed to deploy our personnel days ahead of June 30 to ensure the safety of the installing officers from the Department of the Interior and Local Government (DILG), Capitol officials and employees, and the general public," Mallari said in mixed English and Cebuano.
The early deployment is in anticipation of tensions between supporters of Degamo and Bayawan City Mayor Pryde Henry Teves.
Teves was proclaimed by the provincial election officer as the new governor on May 10, after obtaining 301,319 votes over Degamo's 281,773 votes.
Degamo's camp contested the result, claiming the votes of a "nuisance" gubernatorial candidate who registered himself as Ruel Degamo (real name Grego Gaudia Degamo) in his Certificate of Candidacy should automatically be counted in the incumbent governor's favor.
The other Degamo got 49,039 votes.
The difference in the spelling of the first names led to the confusion of voters, Degamo's lawyers noted.
Earlier, a Comelec resolution dated Dec. 16, 2021 signed by Commissioner Socorro Inting at the division level declared Grego Degamo as a nuisance candidate.
The disqualification case of the other Degamo has been elevated to the Comelec en banc.
Media reports said Teves prepares to assume office at the Capitol with his scheduled inauguration and oath taking in Bayawan City set on June 29.
On the other hand, Degamo is reportedly not stepping down from his position.
Mallari said this is a "very difficult situation" for law enforcers but said the DILG will be the deciding authority on the matter.
Over the weekend, some supporters of the incumbent governor gathered at a tennis court near the Capitol, carrying placards and speakers while taking turns to talk. (PNA)