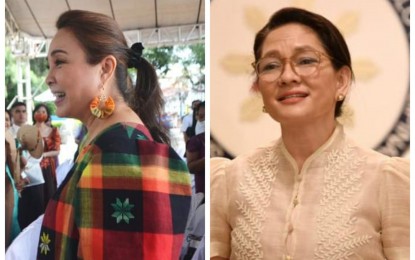 MANILA – Reelected Senator Risa Hontiveros and returning Senator Loren Legarda reiterated their commitments to push for economic-related bills in the 19th Congress as they simultaneously took their oaths of office on Monday.
Hontiveros said the country can always opt for a fresh start, better outcome, and progress.
"But we have no time to lose. Every effort counts. Every day is a chance for me, and for us in government, to do justice to every Filipino," Hontiveros said after she was sworn into office by outgoing Vice President Leni Robredo at the latter's office in Quezon City.
"We will help spur economic growth and restore health care services disrupted by the pandemic. As promised, we will facilitate the increase of budgets for agencies integral to our recovery initiatives," she added in her message.
Meanwhile, Legarda emphasized the need for more jobs and livelihood amid the continuing pandemic.
During her inauguration and oath-taking ceremony with local officials at Freedom Park in San Jose, Antique, Legarda noted the need to translate laws, programs, and policies into tangible benefits.
"Nature-based solutions will be the new currency as the world works towards resilience. The key is involving local communities and other stakeholder groups in both the design and implementation of plans," Legarda said in her speech.
She also vowed to ensure that the country's micro, small, and medium enterprises (MSMEs), which data said account for 99.51 percent of the country's businesses, fully benefit from the law.
"I have witnessed the untapped possibilities of millions of Filipinos: weavers, entrepreneurs, indigenous communities, and cultural creatives. There is so much potential for growth in our rural areas. We need to expand our reach to include local entrepreneurs and indigenous communities and ensure that everyone benefits from government programs such as the MSME law," Legarda added.
MSMEs, according to Legarda, have total assets of not more than PHP3 million (micro); between PHP3 million and PHP15 million (small); and PHP15 million to PHP100 million (medium).
Republic Act No. 9501 or the Magna Carta for Small Enterprises recognizes that MSMEs have the potential for more employment generation and economic growth and can help provide a self-sufficient industrial foundation for the country, thus the law to promote, support, strengthen and encourage the growth and development of MSMEs in all productive sectors of the economy, particularly rural/agriculture-based enterprises.
The law shall recognize the specific needs of MSMEs and undertake to promote entrepreneurship, support entrepreneurs, encourage the establishment of MSMEs, ensure their continuing viability and growth, and thereby attain countryside industrialization.
Legarda likewise vowed to promote green jobs and green skills to encourage more people to engage in agriculture, forestry, horticulture, information technology, creative industries, and other careers that contribute to environmental and cultural preservation. (PNA)