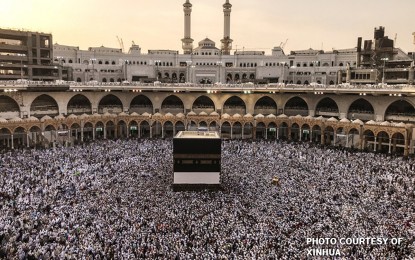 MANILA – Basilan Rep. Mujiv Hataman on Monday said he would call for a congressional review into the reported failure of the National Commission for Muslim Filipinos (NCMF) to secure visas for several Filipino Hajj pilgrims who are now stranded in Metro Manila despite paying over PHP300,000 for their travel arrangements to Saudi Arabia.
Hataman said Congress should look into the NCMF's administration of the annual Muslim pilgrimage to Mecca, and whether it was able to process the pilgrims' travel documents in a timely and efficient manner.
One of the mandates of NCMF is to coordinate, through its Bureau of Pilgrimage and Endowment, the Hajj pilgrimage of Muslim Filipinos and aid in their travel to the Kingdom of Saudi Arabia (KSA).
However, the flights bound for KSA last June 19, 20 and 21 were canceled, leaving nearly a thousand pilgrims stranded.
"Baka kailangan pag-aralan na natin ang proseso ng coordination ng mga tanggapan sa NCMF tungkol sa Hajj at tingnan kung saan pwedeng malunasan ng pag-amyenda ng batas. May nagpabaya ba? May nagkamali ba? San galing ang gusot? Ito ang mga titingnan natin sa ating imbestigasyon (Maybe we need to review the coordination process of the NCMF regarding Hajj and see whether we could solve it by amending the law. Did someone become negligent? Did someone make a mistake? What is the source of the problem? These are the things that we will look at during our investigation," he said in a statement.
He said the government could consider tapping the private sector to coordinate and process all the requirements of the pilgrims for the Hajj.
"Moral governance requires us to be proactive in looking after the welfare of these stranded Muslim pilgrims. Marami diyan, nagagastos na ang pocket money dapat nila sa Hajj at baka wala nang pantustos sa araw-araw. Sana ay mapuntahan sila, matanong at matulungan (A lot of them could have already spent their pocket money for the Hajj and have nothing to get them through the day. Hopefully, the government could reach out and help them)," he said.
He stressed that Hajj is one of the five pillars of Islam and is extremely important to all Muslims. It involves a five-day ritual and a pilgrimage to their holy place of Mecca in KSA.
"Dapat hindi na ito maulit pa (This should never be repeated). We want a better pilgrimage experience for Muslim Filipinos, hindi yung ganito (not like this). Kaya tingnan natin kung ano ang maitutulong ng Kongreso sa NCMF para maiwasan na itong mangyari sa mga susunod na taon (That's why we should look at how the Congress could help NCMF to avoid a repeat of this issue next year)," he said.
NCMF spokesman Commissioner Yusoph Mando, for his part, assured that the commission is already fast-tracking the issuance of Hajj visas and securing new flights for the pilgrims.
Mando explained that NCMF encountered an issue with the online Hajj portal that delayed the issuance of the visas.
"Secretary [Guiling] Mamondiong has been conferring with the Hajj Ministry, MOASSASSA, and the service providers via phone calls since Monday -- which had to be done late in the evening considering the difference in the time zones between the Philippines and Saudi Arabia," Mando said.
Mando said the NCMF will provide reasonable cash assistance to the stranded pilgrims for their accommodation and food expenses. (PNA)