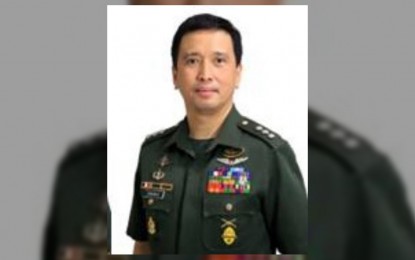 MANILA – Armed Forces of the Philippines (AFP) spokesperson Col. Ramon Zagala will serve as acting commander of the Presidential Security Group (PSG) and senior military assistant of President-elect Ferdinand "Bongbong" Marcos Jr.
"Ang sabi sa akin ni Col. Zagala is for issuance pa ang order, wala pa actually (ang) order, for issuance pa lang, ang effectivity is (June) 30, sabi nya (Col. Zagala told me that the order is still for issuance, there is still no order yet, is still for issuance, but the effectivity is on June 30)," AFP public affairs office chief Col. Jorry Baclor said in an interview with reporters Sunday.
Zagala will replace Brig. Gen. Randolph Cabangbang, who is also a former spokesperson of the Philippine Army.
Baclor said the AFP has yet to name Zagala's replacement as AFP spokesperson.
Zagala was born on Aug. 6, 1969, in Camp Aquino, Tarlac. He completed his primary and secondary education at the La Salle Greenhills in Mandaluyong City in 1983 and 1987, respectively, and took up AB Political Science at the De La Salle University (DLSU) in Manila where he graduated in 1990.
He was commissioned to the regular force on Aug. 9, 1994. Prior to entering the AFP, Zagala was the Corps Commander of the DLSU Naval ROTC unit from 1989 to 1990.
He entered the Officer Candidate School in 1993 and became his class' First Captain earning him the Chief of Staff Saber.
After his graduation from the Officer Candidate School in 1994, he was assigned to different Army and General Headquarters units covering Luzon, Visayas, and Mindanao, holding various command and staff positions.
Zagala completed various career and specialization courses here and abroad, including the Special Forces Operation Course, Basic Airborne Course, Scout Ranger Orientation Course, Armor Officer Basic Course, Basic Practical Pistol Course, VIP Protection Course, UN Peacekeeping Operations Pre-Deployment Training, Armor Officer Advanced Course, the Public Affairs Officer Qualifying Course at Fort Meade, Maryland, USA under the International Military Education and Training Program (IMETP), Military Freefall course, Jumpmaster course, Australian Command and Staff Course, Australian Defence College and Master of Military and Defence Studies, Australian National University at Canberra, ACT, Australia under the Philippines and Australia Defence Cooperation Program.
He also received a number of awards and decorations both in administrative and combat duties including the Distinguished Service Star, a Gold Cross Medal for gallantry in combat, Gawad sa Kaunlaran Medal, 2 Bronze Cross Medals, 19 Military Merit Medals (three in combat), AFP Senior Parachutist Badge, Army Aviator's Badge, US public affairs badge, the Presidential Medal of Merit and other distinguished awards and commendations.
Zagala belongs to a family whose military heritage spans three generations -- from his grandfather, Col. Ramon Zagala to his father Maj. Gen. Rafael G. Zagala. (PNA)