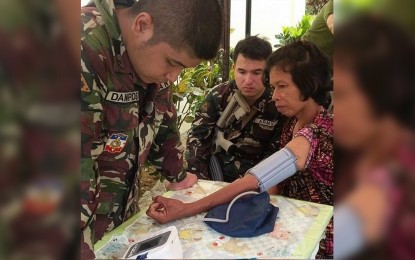 MANILA – Vice President and incoming Education Secretary Sara Duterte-Carpio's call to reinstate the mandatory Reserve Officers' Training Corps (ROTC) is gaining more support from lawmakers and education officials.
In an ambush interview, incoming Quezon City Rep. Arjo Atayde said Monday the proposal is interesting but must be thoroughly reviewed to ensure the best for the learners.
"To be honest, noh, there [are] interesting pros and cons to it. We have to look into it, we just started… If departments slowly were actually meeting committees as a team, [in] Congress, hopefully, we would come up with the right decision where the majority, or whatever it is that people want and more than what they want, is what they need," he said.
On Sunday, Senator Ronald "Bato" Dela Rosa vowed to refile the bill seeking mandatory ROTC which he filed during the 18th Congress.
Dela Rosa said he was "willing to author a bill" in line with the vice president's proposal.
"I am willing to author such a bill na gusto nila, 'yung version na gusto ni (that they wanted, the version that is desired by) Vice President Inday Sara)," he said in a television interview.
Earlier, Senator Sherwin Gatchalian said he supports Duterte's goal as the program will "provide students with additional skills for disaster and calamities response, and even in accidents."
Commission on Higher Education Chairperson Prospero "Popoy" De Vera III said last week he was "generally supportive" of having ROTC at the university level.
"Remember I was an ROTC officer when I was a student at UP, and I know on a personal level how the training and discipline that I got from the ROTC officer helped me develop myself when I continued and left university," he said.
However, he said they would have to wait for lawmakers to officially come up with a statement on their version.
"We'll have to wait for the bill to be filed in congress so that the commission can give its proper comments on the contents of the bill, it's a little bit early to comment without a copy of the actual bill than is filed, but as a general principle I support the ROTC at the university level," he added.
Duterte said she is hopeful that mandatory ROTC will be part of the legislative agenda of the incoming administration, under President-elect Ferdinand "Bongbong" Marcos Jr.
She, meanwhile, has secured her first in-person transition meeting with Department of Education (DepEd) Secretary Leonor Briones, who also agreed to be the next admin's "consultant" for education.
In a statement, the DepEd said both parties have agreed to move urgently for the budget and guidelines for the reinstatement proposal.
"There was a consensus on policy matters that need immediate attention: the guidelines for the incoming SY 2022-2023 and the budget for 2023. These will be the subject of immediate consultations between the concerned members of both teams," the DepEd said.
Duterte and Briones will conduct their joint farewell and welcome ceremonies on July 4. (PNA)