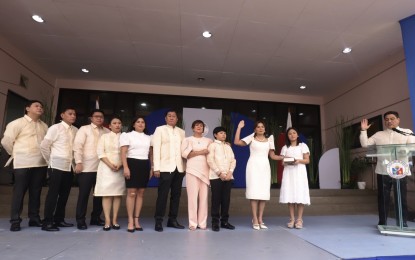 ILOILO CITY – This highly urbanized city will play a vital role in the development of the Visayas region, said Senator Juan Miguel Zubiri, who officiated the swearing-in ceremony of elected local officials here on Monday.
In his message, he also lauded local officials for doing their part in making Iloilo City as one of the livable if not the most livable city in the country.
"As partners in the legislative branch and executive branch in the national and local governments we are one in a job of not only uplifting our people from this pandemic but also creating opportunities for them to enjoy genuine empowerment, strengthened government support in education, health, agriculture, tourism and social services," he said.
The Hiligaynon-speaking senator also committed his support to the city's programs and projects.
Leading local officials who took their oath of offices were reelectionists Rep. Julienne Baronda, Mayor Jerry P. Treñas and Vice Mayor Jeffrey Ganzon and neophyte Uswag Ilonggo party-list representative-elect James Ang Jr.
Incoming members of the Sangguniang Panlungsod to include lawyer Sidfrey Cabaluna, Miguel Treñas, Alan Zaldivar, Frances Grace Parcon-Torres, Dr. Urminico Baronda, Rudolph Ganzon, lawyer Rex Sarabia, Dr. Candice Tupas, Johnny Young, Romel Duron, Ely Estante and Plaridel Nava,
Baronda, in her inaugural speech, committed to expand the delivery of her "gugma (love)" services through her health, "obra (work)", peace and order and education (HOPE) platform.
"Ilonggos gave me this fresh mandate to continue and to do more and to do better our services. Which is why, upon the assessment on the national level and on the ground, we will be extending our service paagi sa pag doble sang HOPE (by doubling our HOPE)," she said.
She said that her office would also look into housing settlements for those having difficulty owning their own houses, overseas Filipino workers, preparedness for disasters, and environment and climate change adaptation
Meantime, Treñas said that the city government would not only work on its usual mandate to deliver basic services but also focus on other initiatives to continue pushing for the city's development.
He talked about rehabilitation of all public markets to fuel economic activities and the preservation of cultural heritage.
"We recognize that protecting our plazas and our heritage sites is not just a beautification effort, it is our commitment to preserve our history in order to tell our future generations stories of our colorful past. Our on-going infrastructure projects are our response to provide an environment for fun, relaxation and mental wellbeing for our people," the mayor said.
He also took the opportunity to express his gratitude to all city hall employees, the private and business sectors for their support as the local government was battling the health pandemic.
The mayor said that the city has tried to be advanced "in terms of crisis response and management that earned the respect and admiration of many. (PNA)