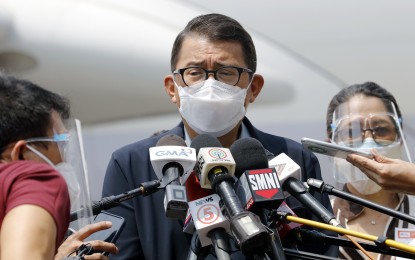 MANILA – Presidential Adviser for Entrepreneurship Joey Concepcion has urged the government to allow booster shots against the coronavirus disease 2019 (Covid-19) for children aged 12 to 17 with the return of face-to-face classes in August.
During the Laging Handa public briefing Monday, Concepcion said the Health Technology Assessment Council (HTAC) should decide on the rollout of booster jabs for this age group to help in maintaining the level of immunity in the country.
He said the efficacy of the initial Covid-19 vaccines is waning as early as four months, and the individuals aged 12 to 17 who are mostly students should get extra protection from the virus as in-person classes will resume.
"This will have dire consequences on the country's recovery. I echo what the Advisory Council of Experts (ACE) is saying: When you delay these boosters, you deny our country the chance to recover," he said in a separate statement.
Last week, the adviser to President Rodrigo Duterte initiated the formation of ACE, an advisory group for the private sector that helps them on taking the pathways to exit from the pandemic.
The group is composed of experts in health and the economy.
"In a pandemic, we do not wait for the 'hard evidence' that we use for routine vaccines," the group said. "We use the weight-of-evidence approach, which takes into consideration things like whole-of-society needs, vaccine deployment challenges at the ground level, age-related issues such as vulnerability versus schools being able to return to normal, the emergence of variants, and many other factors."
The advisory council said vaccination is the country's key weapon to ensure uninterrupted recovery from the pandemic. (PNA)