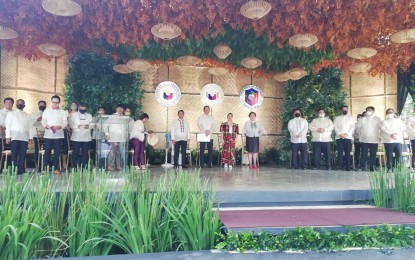 SAN JOSE DE BUENAVISTA, Antique – Reelected Governor Rhodora Cadiao said Monday she will carry on the reforms of outgoing Representative Loren Legarda who will return to the Senate by June 30.
Cadiao said with the support of Legarda, the province introduced social service programs such as a financial support initiative to help senior citizens.
The state of Antiqueño sugar migrants in Negros Occidental also improved with the governor closely coordinating with her counterpart in Negros Occidental, providing assistance to workers with support from the Department of Labor and Employment.
"We intend to provide those who already want to go home to Antique for good to have their monthly pension so they will have money for their basic needs," Cadiao said during the inauguration of Legarda and other elected officials at Evelio B. Javier Freedom Park here.
She said with the support of the provincial board, she intends to raise the educational scholarship for indigent students from PHP5,000 per semester to PHP6,000.
Legarda placed second overall behind actor Robin Padilla with 24,264,969 votes.
She said she will keep ablaze the torch of unity, reform, and good governance.
"Twenty-four years ago, I entered the halls of the Senate with sheer determination to make a difference in the lives of every Filipino man, woman, and child. Today, I return, with greater wisdom, knowledge, passion, discipline and greater determination to make this world better than when I found it," she said in her inaugural address.
Legarda, who served Antique from 2019 to 2022, was inducted into office by Macario Bagac, chief of Barangay Mag-aba in Pandan town where she resides.
Also inducted were Legarda's successor, Antonio Legarda; reelectionist Vice Governor Edgar Denosta; Provincial Board members from the south district Mayella Mae Plameras-Ladislao, Rony Lavega Molina, Dante Beriong, Alfie Jay Niquia, and Pio Jessielito Sumande Sr.; and Provincial Board members from the north district Victor Condez, Noel Alamis, Karmila Rose Dimamay, Emmanuel Palacios Jr., and Egidio Elio.
The ceremony was witnessed by European Union Ambassador Luc Veron and his wife, Nicole. (PNA)