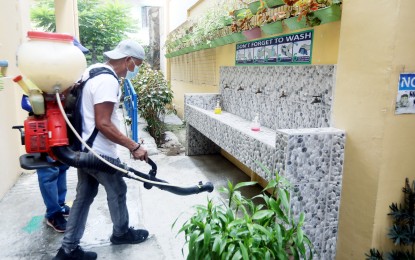 SAN JOSE DE BUENAVISTA, Antique – This capital town of Antique province has opened its coronavirus disease 2019 (Covid-19) temporary treatment and monitoring facility (TTMF) to dengue patients to prevent overcrowding of the provincial hospital.
San Jose de Buenavista Mayor Elmer Untaran said in an interview Monday that they reopened their TTMF, closed for several months now because of the Covid-19 cases, to cater to dengue patients.
"Right now, six dengue patients are there," he said.
Sheree Vego, a nurse at the Antique Integrated Provincial Health Office (IPHO), said they recommended for the local government units (LGUs) to initially manage dengue patients without warning signs yet, like abdominal pain and bleeding, during a meeting with municipal health officers on June 14.
"The IPHO also recommended for the LGUs to use their infirmaries or Covid-19 TTMF that are no longer being used so that the hospitals in the province will not be full," she said.
She said San Jose de Buenavista patients are provided with food and other medical needs for free while they are in the Covid-19 TTMF.
San Jose de Buenavista has 218 dengue cases as of June 19, the highest among the 18 municipalities of the province.
To date, the province has 979 total, including four deaths.
During the same period last year, there were only 215 cases and one death. (PNA)