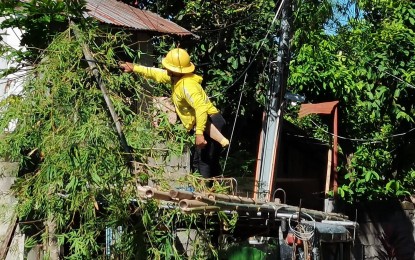 DUMAGUETE CITY – The Department of Labor and Employment (DOLE) in Negros Oriental on Monday called on establishments to comply with the mandated Occupational Safety and Health (OSH) standards or face possible penalties and sanctions.
DOLE-Negros Oriental provincial director Ma. Teresa Tanquiamco said her office has been monitoring and inspecting establishments since March this year, following the easing of quarantine restrictions due to the coronavirus disease 2019 (Covid-19).
"We were inspecting these establishments on the implementation of the minimum daily wage, health and safety, and other labor laws, and we found out in the process that many of them had violated the OSH standards. We asked them to comply with the requirements otherwise they would have to be penalized," she said in an interview in mixed English and Cebuano.
Tanquiamco said some of these establishments may have overlooked the OSH requirements considering that for the past two years during the pandemic, their businesses closed due to lockdowns.
Records from the DOLE-Negros Oriental showed that 14 establishments failed to organize an OSH Committee pursuant to Sec. 13 of DOLE Department Order 198-18.
The violations included the absence of safety officer/s; first aider; fire safety inspection certificate issued by the Bureau of Fire Protection; emergency medicines; and orientation of all workers on OSH, among others.
The violators were from various sectors such as retail; tourism-related; utilities; security agency; manufacturing; business process outsourcing; education; warehouse; manpower agency; transportation; agriculture; and construction.
Meanwhile, the DOLE-Negros Oriental is now monitoring the implementation of the new minimum daily wage which took effect June 14.
Tanquiamco said they were informed by their regional office that the wage order no longer requires Implementing Rules and Regulations before it can be implemented.
Minimum wage workers in the province, which is part of Central Visayas, will get a PHP31 hike in their daily pay, ranging from PHP382 to PHP435.
Meanwhile, domestic workers (kasambahay) will get a PHP500 increase in their minimum wage. (PNA)