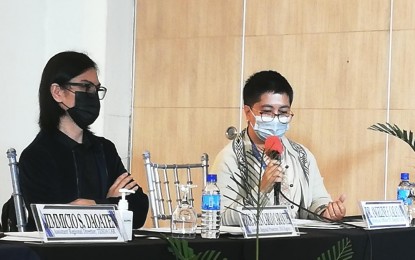 BAGUIO CITY – The Department of Education (DepEd) in Cordillera on Monday said the youth should be taught to focus on becoming productive and responsible citizens, instead of scaring them with the penalties if they get involved in illegal drugs.
In a press conference, Angeline Calatan, medical officer at the DepEd-Cordillera, said scare tactics are not the best way to keep learners out of the influence of illegal drugs, adding that reducing dropouts is actually a more effective approach.
"We are more focused on personality development and imparting the importance of finishing their studies by staying in school which will make them better persons," Calatan said.
She said while they tell learners about the consequences of illegal drugs, they want to concentrate more on making the learners capable of thinking for themselves.

"We want to develop critical thinking among the learners, how to say yes, how to say no," she said.

In 2018, the DepEd ordered the integration of anti-drug education in the school curriculum, crafting the messages and the content based on the age of the learners.

"We should be clear with our messages and the content we want to impart, not just on making them aware of the effects and the misconceptions," Calatan said.
She said subjects like Health and Good Manners and Right Conduct (Edukasyong Pagpapakatao) could also be used as vehicles to inculcate values that will help learners stay away from illegal drugs.

In Cordillera, the DepEd's Education Support Unit also has the program "Barkada Kontra Droga," which also emphasizes the government's anti-illegal drugs program.

Ensuring a safe environment for the schools through Disaster Risk Reduction Management is also incorporated into the department's effort, said Calatan.
She said the DepEd-Cordillera has also institutionalized the "Salaknib tan namnama," an Ibaloi phrase that means saving and giving hope to help "learners in need."

Calatan said the program was piloted in the DepEd Benguet division and is being carried by the Abra division.

The program taps volunteers who support "distressed" learners or those at risk of dropping out.
Prosecutor John Carlo Carantes, assistant regional director of the Department of Justice-Regional Prosecution Service, said cases of minors involved in illegal drugs are referred to the Department of Social Welfare and Development.
Under the juvenile justice law, minors below 15 years old are exempt from criminal liability while those 15 and above but below 18 at the time of the commission of the offense are subjected to an assessment to determine their discernment. (PNA)