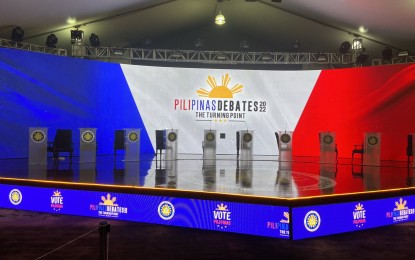 MANILA – Outgoing President Rodrigo Roa Duterte said President-elect Ferdinand "Bongbong" Marcos Jr. made the right decision to skip presidential debates during the campaign period, noting that they had limited time to defend their answers.
"During the campaign, we had a limited time to talk, and the next time that you are a candidate, you are invited to do that… Tama si Marcos (Marcos was right), decline," Duterte said in a speech during the oath-taking of local officials in his hometown Davao City.
He said only TV stations owners benefitted from debates since they supposedly earned money for airing them.
"We were only given half a minute or one minute and that's it. You cannot even talk further… It was for show. It earns money for them at your expense sometimes," he added.
Throughout the campaign period, Marcos chose not to attend any presidential debates organized by the Commission on Elections (Comelec) and major TV stations due to his busy schedule.
He, however, attended the presidential debate organized by Pastor Apollo Quiboloy-led Sonshine Media Network International (SMNI).
Duterte's daughter, Vice President-elect Sara Duterte, also decided not to attend the vice presidential debates.
Quiboloy has openly endorsed the tandem of Marcos and Sara.
Marcos and Sara overwhelmingly won in the last May 9 presidential and vice presidential elections, respectively, under UniTeam ticket.
Duterte will step down from office by noon of June 30 and will be succeeded by Marcos. (PNA)