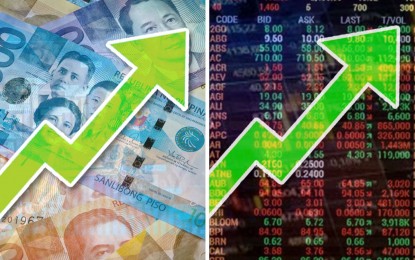 MANILA – The main equities index sustained its recovery on Monday and the peso registered a correction against the greenback in line with its counterparts in the region despite touching the 55-level mid-trade.
The Philippine Stock Exchange index (PSEi) gained by 0.34 percent, or 21.26 points, to 6,238.82 points.
All Shares followed with a jump of 0.44 percent, or 14.84 points, to 3,352.47 points.
Half of the sectoral gauges also rose during the day and these are Services, 1.95 percent; Industrial, 1.23 percent; and Holding Firms, 0.18 percent.
On the other hand, Mining and Oil fell by 1.33 percent, Financials by 0.88 percent, and Property by 0.04 percent.
Volume was thin at 682.61 million shares amounting to PHP5.24 billion.
Advancers led decliners at 98 to 84, while 54 shares were unchanged.
Luis Limlingan, Regina Capital Development Corporation (RCDC) head of sales, traced the PSEi's gains partly to investors' wait-and-see stance on the latest bank lending data and the Purchasing Managers' Index (PMI) manufacturing data for the Philippines.
Limlingan said other drivers for the week include the inauguration of President-elect Ferdinand Marcos Jr. on June 30, and the US personal consumption expenditures data.
Meanwhile, the peso gained against the US dollar after finishing the day at 54.78 from 54.985 last Friday.
It opened the day at 54.93, weaker than its 54.65 start in the previous session.
The local currency traded between 55.15 and 54.78, resulting in an average of 54.982.
Volume reached USD1.18 billion, lower than the USD1.4 billion at the end of last week.
Rizal Commercial Banking Corporation (RCBC) chief economist Michael Ricafort said the local currency ended its eight-day depreciation because of "healthy correction."
"The peso also became stronger after the recent relief rally in the local and US/global stock markets after the US University of Michigan gauge of long-term (5-10 years) consumer expectations revised to 3.1 percent (from a preliminary 3.3 percent) but still the highest in more than 11 years or since March 2011," he said.
Ricafort said the peso's 2.3 percent weakness against the greenback last week "has been overdone" since its counterparts in the region were "mostly slightly weaker vs. the US dollar by less than 0.5 percent."
"Peso is also stronger as most Asean currencies are slightly stronger vs. the US dollar today," he said.
Ricafort said the peso has depreciated by around 7.4 percent against the US dollar compared to other currencies in Asia.
In turn, the Thai baht has weakened by 6.5 percent; the Malaysian ringgit, 5.7 percent; Chinese yuan, 5.2 percent; and Indonesian rupiah, 3.8 percent.
He forecasts the currency pair to range between 54.60-54.90 levels on Tuesday. (PNA)